Souping
Souping—a low-cal cleanse comprised solely of soup (duh!)—is the uber-trendy juicing alternative for the frigid winter months taking the nation by storm. Over the last year, a variety of companies have come out with their own cleansing programs including Soup Cleanse and The Splendid Spoon, who deliver their soups right to their customer's doors. And their offerings aren't anything like your mama's chicken noodle, either. With the new trend has come exciting, innovative flavors like Pumpkin Pear Hempseed, on-the-go bottled gazpachos, breakfast soups (better known as smoothie bowls) and even dessert soups, so dieters can stay on track with their cleanse morning, noon and night. Though we don't recommend living solely off soups, replacing some of your higher calorie meals with a fresh, nutrient-packed broths isn't a bad idea if you're trying to lose weight. It's also a healthier alternative to juice cleanses, which tend to lack the very nutrient that will keep you satisfied and sane while slimming down: fiber.
Alternative Proteins
Gone are the days when the word protein was only associated with fish, burgers and chicken. Now when someone utters the term, more of us think of things like lentils, beans and ancient grains—even if we're not vegans or vegetarians. In fact, plant-based proteins are so popular that The United Nations dubbed 2016 the International Year of Pulses. Pulse is an all-encompassing term for beans, lentils and peas, some of the very best alternative proteins on the plant. Not only can eating less meats and more plant proteins help you stay trim, doing so can also ward off degenerative and cardiovascular diseases, which are can be exacerbated by the overconsumption of fatty meats, according to a Slovak Medical University report.
Matcha, Matcha, Matcha
This concentrated green tea isn't just available at the local sushi place anymore; the trendy brew has been popping up in everything from cookies and ice cream to Greek yogurt and even salt! And it's not just a grocery store trend. New York City hotspots like Victory Garden and Juice Generation have been adding matcha into their menu items to cater to their health-minded clientele. Loaded with all-around amazing antioxidants and belly fat-busting compounds called catechins, this green tea powder packs a big punch of good-for-you nutrients. The key to your slim down success, however, is to sip it plain or use it to enhance an already healthy dish. Add matcha to your go-to overnight oats recipe or make a green smoothie by combining the powder with fruit, plain Greek yogurt, flax seeds and ice cubes.
Foods That Zing
Pumpkin spice? That's so 2014. In recent months, the flavors tickling everyone's tongues are far more hot and spicy. McCormick, one of the largest spice, seasoning and condiments manufacturers in the world, anticipated that this would be a big year for chilli-based condiments and snacks inspired by hot Indonesian and Malaysian flavors. Look for sambal sauce, chili-citrus potato chips and spicy popcorn invading supermarkets and restaurant menus. The best part? All of this is good news for your belly. Fiery capsaicin, the compound that gives chiles their signature kick, has been shownboost metabolism while simultaneously decreasing appetite.
Lower Sugar Counts
New U.S. dietary recommendations have finally dropped, and the suggestion to limit added sugar to 10 percent of daily calories is one of the most buzzed-about recommendation. This new focus on the dangers of sugar has put restaurants and food manufacturers alike under increasing pressure to reduce how much of the stuff they use in their products and dishes. That said, expect to see less sugar in your snacks and more products advertising 'natural sweeteners,' like stevia, maple syrup, agave syrup, monk fruit, dates, and coconut sugar. Don't be surprised if low- or no-added-sugar menu sections start to emerge, too.
Although this is certainly a step in the right direction, know that there's little research demonstrating that alternative natural sweeteners are significantly better than plain ol' sugar. In fact, many of them are metabolized in the same way as sucrose. To complicate things further, many food manufacturers don't consider things like fruit juice concentrate and honey, added sugars, when by definition, they actually are! Curious how your body reacts every time you overload it with the white stuff?
More Probiotic-Infused & Fermented Foods
Years ago, people relied on yogurt, and yogurt alone, to get their daily dose of probiotics. Now we know that the little buggers aren't just found in the dairy aisle. They're found abundantly in things like spirulina, dark chocolate and, most prominently, fermented foods like kimchi and sauerkraut. But it doesn't stop there: "Looking forward to 2016, it won't be uncommon to find probiotic-fortified foods and beverages such as orange juice, cereals, and waters," registered dietitian Sarah-Jane Bedwell tells Today's Dietitian. Replenishing your good gut bugs with probiotic and fermented foods can ward off inflammation and weight gain, so we're giving this trend our stamp of approval! To reap the most flat belly benefits, though, you'll want to stick to the natural sources of the stuff and steer clear of newly enhanced products like juice, which are commonly overfilled with sugar.
Healthy Fast Food
Not only are chains like Chick-Fil-A, Panera and McDonald's altering their menu offerings and cleaning up their ingredients to retain their more health-conscious-than-ever clientele, but there are also now more healthy quick-bite eateries than ever before. With the continued success of weight-loss-friendly chains like Sweetgreens and Dig Inn, we've seen even more healthy fast food options come into the world in 2016. Here's hoping that this will inspire sit-down restaurants to do the same; a fair share of their meals are downright disgusting when it comes to nutrition.
Less Meat
For as long as we can remember, meat has always played a leading role on dinner plates across the nation while veggies were cast as supporting players. Well not anymore! For the first time ever, veggies are taking center stage on restaurant plates while meats are being listed as supplemental sides. Maybe it has something to do with the increasing numbers of flexitarians (those who eat less meat) or our nation's ever-growing concern with the antibiotics in meat, but whatever the reason, this trend is one that Biggest Loser dietitian Cheryl Forberg is a big fan of: "When you place flavorful vegetables front and center on lunch and dinner plates, accompanied by sides of protein and whole grains, you'll automatically consume fewer calories and take in more health-protective vitamins and nutrients which promote wellbeing and weight loss," she explains.
Bowl-Centric Dining
Acai bowls, Buddha bowls, smoothie bowls, macro bowls and quinoa bowls took the world by storm last year—and they're not losing steam anytime soon. Not only are the eye-catching one-bowl-wonders instant Instagram stars, but they also make getting all the nutrients and energy you need beyond easy. But just like meals that are served on a plate, not all bowls can help you trim down. Be mindful of added sugars in smoothie and acai bowls and keep portions of high-cal ingredients like nuts, avocados, and oils to a sensible serving size when enjoying something on the savory side.
More Beets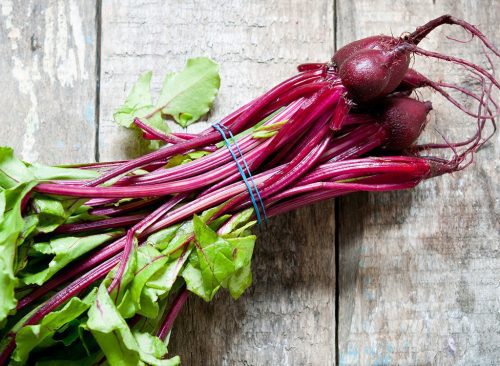 Once at the bottom of the vegetable hierarchy, beets are now making a powerful comeback. Beet-infused hummus, fast-casual beet salads, and beet-infused sports drinks have all been popping up all over as of late, and we expect to see more restaurants and supermarket products spiked with the stuff turning up throughout the year. If you can get on board with the taste, consuming more beets is a good thing for your bod: Some studies have shown that consuming the root veggie improves athletic performance, and the better your workout, the faster you'll reach your goal weight. Their magic ingredient: Nitrates, a natural chemical that increases endurance and lowers blood pressure. Beats are also low in calories, high in fiber and rich in the mineral iron, making them a winner in our eyes.
Mini-Desserts
Not only are tiny sweets easier on your wallet than a "normal-sized" dessert, but they're also easier on your waistline and health. In fact, many minis offer 50 percent fewer calories than their larger counterparts—and some offer an even more significant calorie savings. Beyond that, a small treat can help keep you sane! "A little sweet treat on occasion can help keep those cravings in check and allow you to follow your weight-loss or weight maintenance regimen," dietician Maria-Paula Carrillo, told us.
Seaweed
Watch out, kale, a new family of super greens is vying for your spot at the top of the food chain! Not only are underwater veggies like nori, kelp, and seaweed filled with cancer-fighting nutrients like folic acid, but some of them also contain compounds called alginate, which has been shown to significantly cut fat absorption, says registered dietitian Tanya Zuckerbrot. Expect to see an expansive selection of sea plants invading your favorite restaurant menus in the upcoming year.
Hybrid Burgers
For awhile now, we've suggested mixing burger meat with veggies and beans to stretch your food dollar, cut calories and up your fiber intake, so it's about time the restaurant world caught on!  Late last year, Back Yard Burgers debuted a chicken burger infused with spinach, mozzarella, quinoa, and peppers and we're expecting to see more restaurants serving similar offerings throughout the year as more consumers start looking for low-calorie, high-fiber options that don't sacrifice flavor.
Smaller Plates
According to the National Restaurant Association, lower-cost half portions and small plate menu items are two of the hottest and fastest growing restaurant trends of the year. Smaller portions = fewer calories = a thinner you! The best part? You can still eat all the foods you love.