Chemicals are out and all-natural everything is in. There's a surging urge to eat, live, and play better these days. However chaotic the world may seem, there's a rising number of us who are yearning for inner peace in favor of healthier physical and spiritual living.
A wellness revolution is in motion, and with that comes the desire to not only eat and live well, but travel well, too. For those healthy globetrotters who have been bit by the travel bug, there is a cure. There is an ever-evolving list of cities to fall in love with, oceans to explore, and mountains to climb. So, what are some wellness destinations that you can add to the list (for now)? All of you yogis, spiritualists, surfers, hikers, and chillers will want to keep reading.
1 Tulum, Mexico
Tulum, a once "off-the-beaten-path" vacation destination in Mexico, is a rising star that's hidden away from the hustle and bustle. The crystal waters and sandy white beaches are met with preserved Mayan ruins and outrageous cenotes destined for exploring. To top it all off, the restaurants make it incredibly easy to stay on top of your healthy-eating game. With loads of spots catering to vegans, vegetarians, and the smoothie-obsessed, foodies will fall in love.
2 Sedona, Arizona
A spot that's best known for its red rocks and hiking is also a very special spot for spirituality and wellness. Why is that? It's called a vortex — a sacred location on the earth where energy is harnessed. Some have the belief that healing and spiritual transformation happen more easily in Sedona because the openings to other dimensions are thinner here. As you wander around, you'll likely find fellow visitors meditating, doing yoga, and working with practitioners to make the most of the energy's ability to heal.
3 Jeffreys Bay, South Africa
Hours outside of Cape Town, JBay is a little oceanside retreat with (arguably) some of the best surfing known to the world. Surfers visit from all around the world for their pick of beaches each with their own appeal. For anyone with the desire for a chilled-out getaway, surf lesson, or horseback ride along the beach, this is it. There's nothing like some small-town R&R. Wake up in the morning to surf, get lazy near the waves with a book, and spend time enjoying the simple things in life.
4 Bali, Indonesia
More than just a dreamy tropical paradise with idyllic beaches, Bali, similarly to Sedona, expresses its own special energy. Pura Tirta Empul is a sacred spring that has attracted Balinese worshipers for more than a thousand years. People visit from near and far to bathe in the waters for healing and spiritual merit. The temples, surfing, iconic rice fields, secret canyons, and adventurous cliff-jumping make it a captivating respite for those in need of natural beauty and spiritual culture.
5 Joshua Tree National Park, California
Welcoming rock climbers, tree-lovers, and stargazers with ethereal sunrises, sunsets to marvel at, and some of the darkest nights in Southern California, Joshua Tree is a stunning national park nestled between two deserts — the Colorado and the Mojave — not far from Los Angeles. The slow rhythm of life in the middle of absolute peace and quiet is an ideal place for rejuvenation and self-discovery. You can admire the Milky Way, the famous Joshua trees, or the colorful skies free of disruption.
6 Reykjavik, Iceland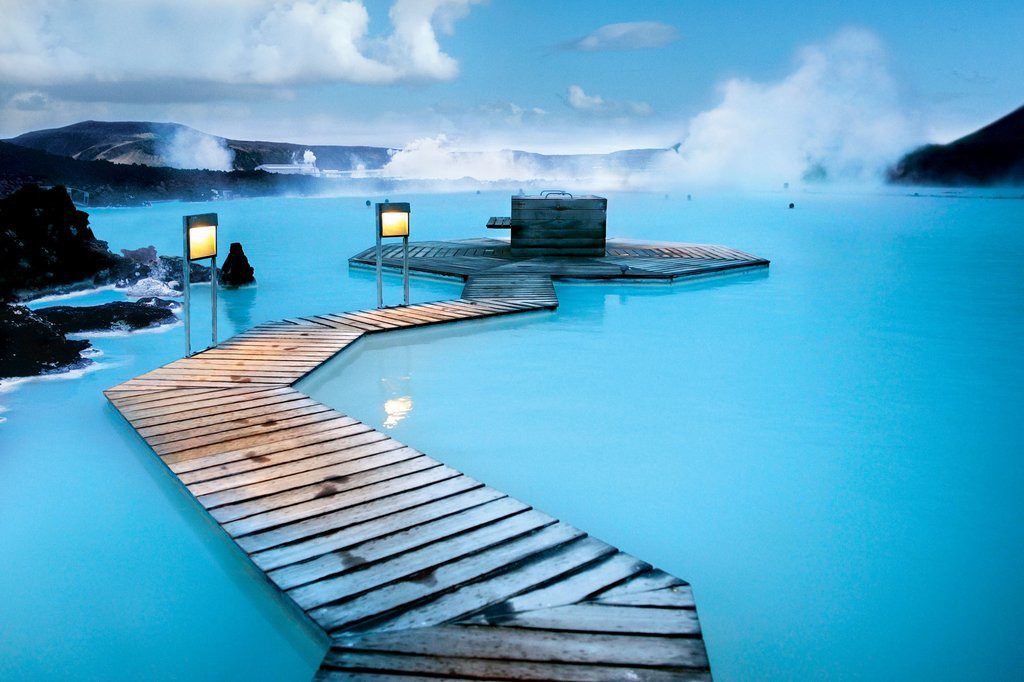 Iceland's capital city is packed with fresh air and natural gifts and is fueled by clean energy. For all-natural beauty connoisseurs, the famous Blue Lagoon offers healing mud masks, in-water massages, and skincare products to bring home. The wellness experience doesn't stop there with a long list of geothermal pools and spas. The Golden Circle tour will take you to cascading waterfalls, hot springs, and a UNSECO national park. If you're lucky, you may even catch the wonder of the aurora borealis.
7 Dharamsala, India
A hillside city in Himachal Pradesh and home to the Dalai Lama, Dharamsala is filled with monasteries, momos, a Tibetan center for medicine and astrology, and monumental scenic beauty. A growing number of wellness retreats focused on holistic health, yoga, and ayurveda are popping up around India. This is one city that offers its own series of unique mindfulness opportunities. Recharge, trek, meditate, or volunteer with the community.