In what has undoubtedly become one of the most anticipated yearly launches of Pride season, Nike and Converse have announced their 2020 product lineup. Among the offerings, the brands have incorporated a 10-color, all-inclusive Pride flag.
The drop will include a nine-piece collection of sneakers and accessories from Converse, as well as three footwear styles from Nike. Nike is offering up its Air Force 1, the Air Max 2090, and the Air Deschutz, now done with rainbow colors. The tab of the Air Max features a new all-inclusive Pride Flag inspired by the More Color, More Pride flag launched in Philadelphia in 2017. That original flag, designed in partnership with Amber Hikes, added black and brown stripes to the six-color Pride flag to symbolize its inclusion of Black and brown queer and trans communities.
Nike's update, which runs through the Converse brand, adds two additional stripes: pink and baby blue to represent trans inclusivity. These stripes are notably featured in the Trans Pride Flag.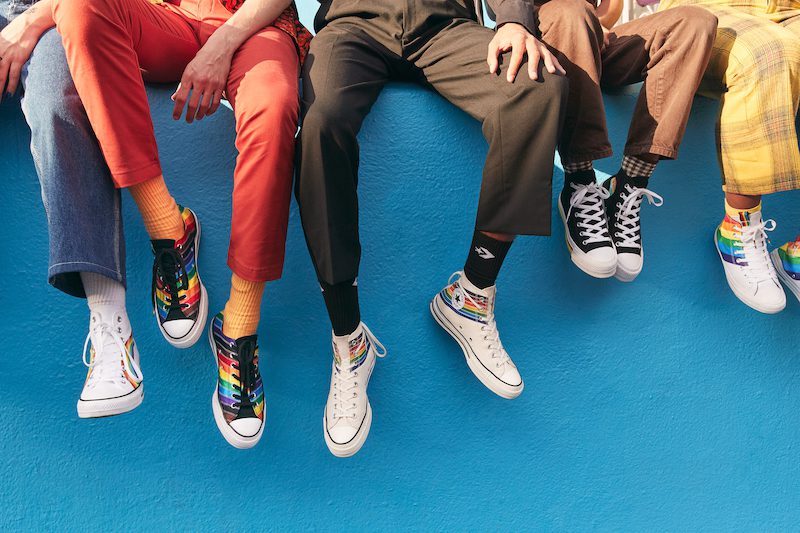 Converse is using this update to inspire a number of designs across a collection of Chuck 70s and Chuck Taylor All Stars. Other options also include the More Color, More Pride flag in its original eight-color design, as well as the six-color Pride flag, and the Trans Pride Flag.
Converse will release its range (which includes t-shirts and a hat) on May 29 while Nike will release globally June 19.
The projects are being alongside the company's latest charitable efforts. This year, the brands are supporting more than 20 organizations that focus on LGBTQ+ advocacy in sports, create safe spaces, and elevating the history of the community. Grants, funded by Nike and Converse, administered by the Charities Aid Foundation of America will assist organizations like the LGBT Center of Los Angeles, Campus Pride, GLBT Historical Societ Museum, Portland Frontrunners, and more.
Converse specifically will be working with organizations like It Gets Better Project, Ali Forney Center, BAGLY, and OUT MetroWest. Over the past five years, the company has donated over $1 million in connection with its Pride efforts.