Daphne's Club Hotel Apartments -Sykia, Xylokastro.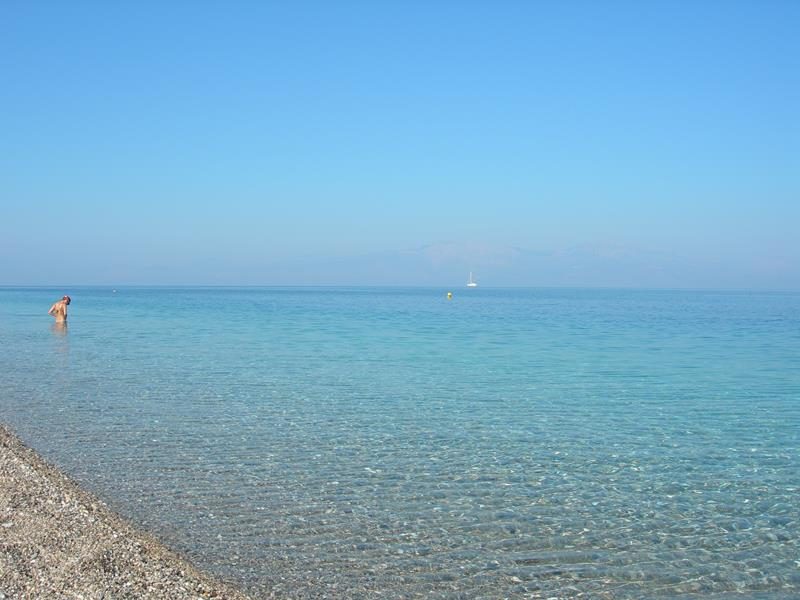 Daphne's Club Hotel Apartments was created with our guests' real comfort in mind. Everything is designed on a human scale, i.e. small, beautiful and practical!
The hotel has four floors (ground, first, second and third) and one mezzanine. There is an elevator to the first, second and third floors (the elevator does not service the mezzanine). In front of the hotel there is a garden, and on the third floor there is a roof garden with a splendid view of the sea and the surrounding mountains.
On the ground floor are the reception, guest WCs (with baby changing station and disabled WC), a literature library with books in Greek, English, Dutch, German, Italian, French and Russian, a small travelbook library, a notice board with the area's cultural events/excursion suggestions/public transport timetables, a recycling bin, a collection of games and cards for children and adults, a recreational corner for children and the breakfast room and cafeteria, equipped with TV and DVD, a piano, two guitars (classic and accoustic), percussions and a children's flute.
In the garden there is a children's playground, tables and chairs where guests can also take their breakfast, a bicycle house with free bicycles for our guests, and a luggage loading and unloading area. At Daphne's Club you will find, without extra charge: wireless internet access, a WiFi printer, beach umbrellas, beach chairs, yoga mats, nordic walking sticks, cards and other games, musical instruments, table tennis, tennis and beach rackets, reusable shopping bags, bicycles, excursion information, recycling bins and much more!
Daphne's Club Hotel Apartments is the perfect destination for family holidays. Why?
…because we provide all that bulky baby equipment that makes life difficult when packing and travelling:
Baby cots
Baby bed rails
Baby chairs
Baby baths
Feeding bottle sterilizer
A baby changing station next to the lobby
Children's books in many languages and for all ages
Children's toys & games
Children's sea toys & inflatables
New baby literature
Safe socket kit
… because we actively support breastfeeding by offering:
Breastfeeding pillow for comfortable breastfeeding
Breastfeeding literature
… because we are an eco-labeled hotel which uses eco-labeled cleaning products, therefore ensuring an environment that is safe from hazardous chemicals for all the family!
Living Postcards