In May of this year, my colleague Elena Vosnaki announced the revival of the first three editions of Dior's La Collection Privée collection with the words, "Why not re-issue a triptych of highly acclaimed scents from Dior's recent past, which Kurkdjian himself had his hand in creating? Hence Cologne Blanche, Bois d'Argent, and Eau Noire are being reissued soon to the admiration and expectancy of all. Named after the designer's color scheme -Cologne Blanche (white), Bois d'Argent (silver), Eau Noire (black)- they were launched in 2004. Later, in 2010, the exclusive unisex collection Christian Dior La Collection Privée was created by Francois Demachy based on this trio, every year expanding with new perfumes, and replacing old favorites with new ones. It was then that the three first editions slowly became extinct."
Now, the house of Dior invites us to discover the original trilogy in a set; "a trio of singular and complementary fragrances inspired by the idea of a fragrance collection designed as a perfect silhouette: La Collection Privée Christian Dior."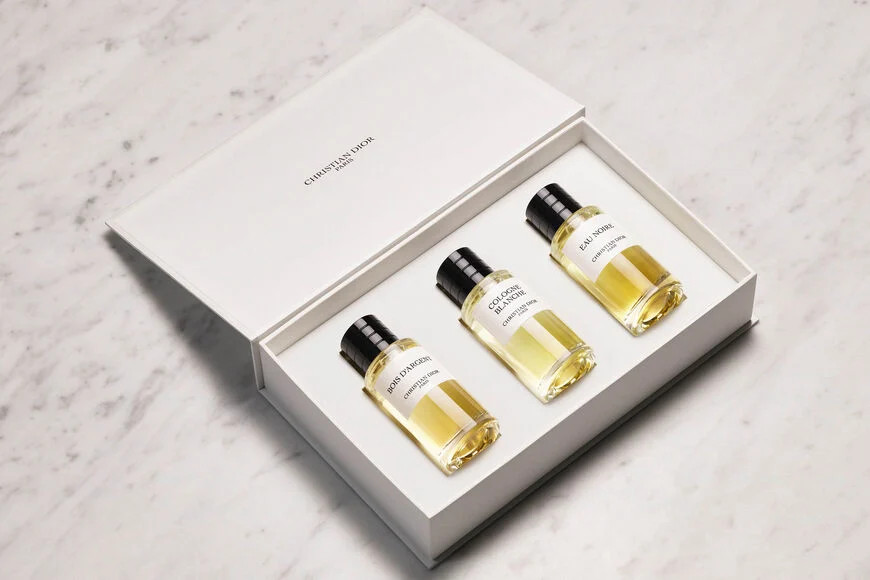 COLOGNE BLANCHE
Cologne Blanche is an expression of regal style that brings notes of orange blossom and violet to life in a floral trail set against an ambery backdrop.
EAU NOIRE
Eau Noire, as chic and intriguing as a nocturnal silhouette, is reborn with a fresh signature of three lavender absolutes and essences engaging in dialogue with a myrrh note in a gourmand accord.
BOIS D'ARGENT
A La Collection Privée Christian Dior icon, Bois d'Argent is an avant-garde creation. Its notes of iris and frankincense rest against an ambery base for a fragrance with a timeless trail.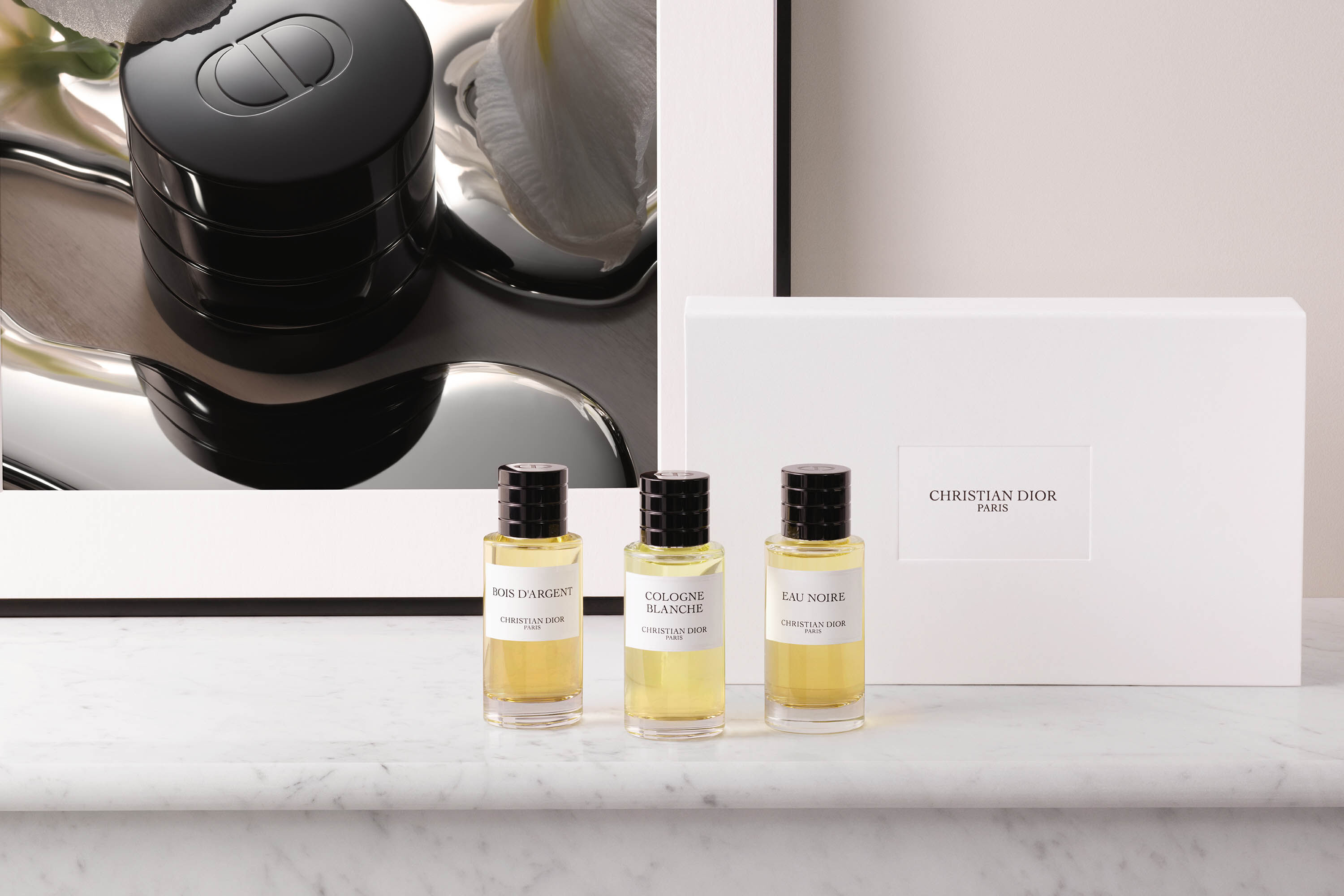 DIOR'S DESCRIPTION
Exceptionally produced in a limited series, this fragrance trilogy revives the founding notes of La Collection Privée Christian Dior: signatures refined to perfection that Francis Kurkdjian wanted to reunite for the first time since their creation in a set with a sleek, understated design. The three fragrances revisit with elegance and originality the fundamentals of perfumery: lavender, orange blossom and iris notes.
– Cologne Blanche, 1.3 oz. This fragrance boasts a regal style, worthy of a salon at Versailles. A flawlessly elegant composition, Cologne Blanche unfurls a luminous orange blossom note enveloped in an intensely powdery violet accord. A skin scent, its lingering softness is like the caress of talc against a sensual ambery backdrop.
– Eau Noire, 1.3 oz. This fragrance, akin to a nocturnal silhouette, is reborn with a new impetus of three high-quality lavender essences and absolutes that enter into dialogue with the myrrh note and just the right dose of other gourmand notes to give it a chic, seductive effect.
– Bois d'Argent, 1.3 oz. Timeless yet avant-garde, the Bois d'Argent fragrance pioneered the concept of universal olfactory elegance. It's a scent that you make your own, an addictive skin-to-skin effect. Dominated by an omnipresent and richly powdery iris heart note, Bois d'Argent is wrapped in a mystical frankincense note set against an ambery background.
The Original Trilogy is exclusively available on dior.com in a very limited edition. The set is priced at US $450.