Hands down, these are the healthiest cupcakes you'll ever make and they need just one bowl! No eggs, no sugar, and no dairy are needed, but you'd never tell! Less than 150 calories per cupcakes.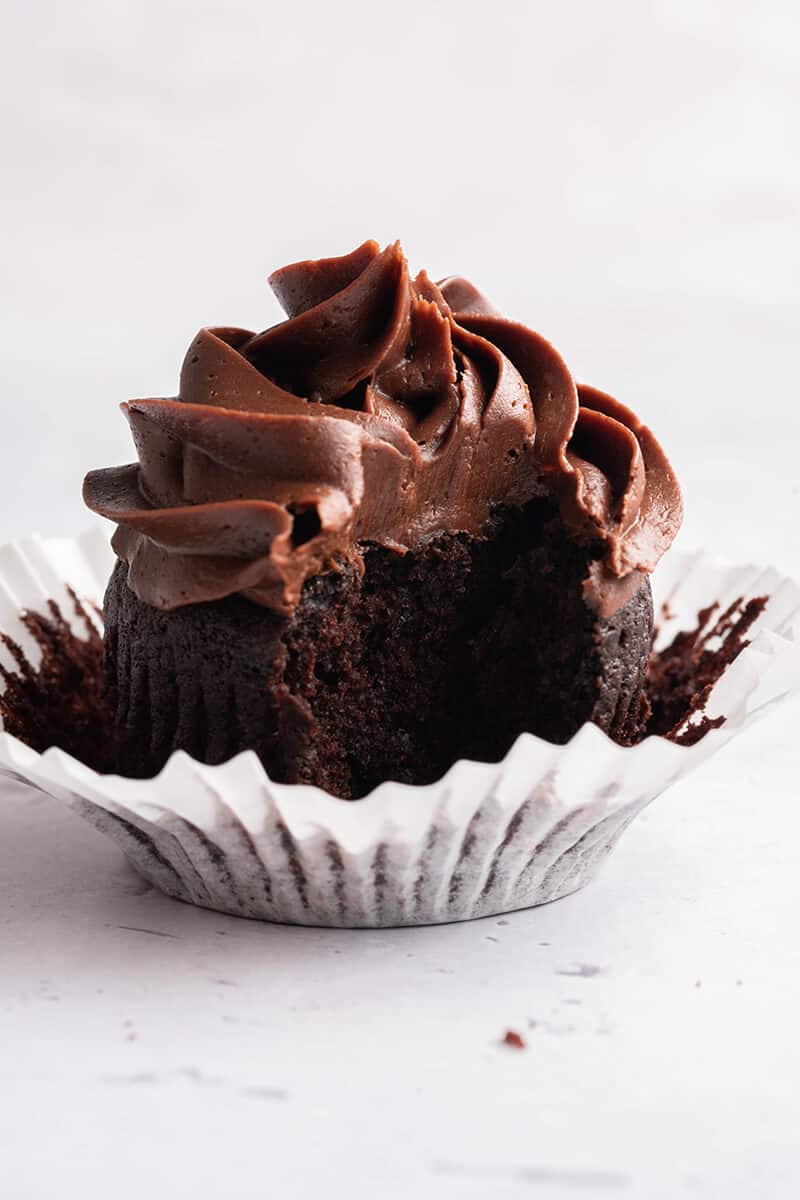 Healthy Cupcakes
When it comes to delicious and healthy desserts, my favorite recipes to make are chocolate chip cookies, brownies, and these healthy cupcakes.
Even though I follow a relatively healthy diet, I can never say no to dessert. I could eat perfectly healthy foods for every single meal but once dinner is done, my sweet tooth comes into full effect. I often find myself reaching for some cookies, or a brownie, or something I'd baked during recipe testing.
To combat this, I've started making a few healthier desserts to keep around the house. When the sweet cravings strike, I can reach for one of them instead of my usual fare. While I love all kinds of desserts, my favorite is a chocolate cupcake. If there is a cupcake in my view, there is a 100% guarantee that it will be consumed by the end of the day. As such, making healthy cupcakes was on my agenda!
I've been meaning to share a healthy cupcake recipe for quite some time. They've been my go-to dessert, especially when I'm trying to stay on track after a little too much indulging. These cupcakes use simple ingredients and no fancy kitchen gadgets to whip up.
Now, these cupcakes may look incredibly fancy, but I promise you they are such a foolproof treat! No eggs, no oil, and no butter are needed, but you'd never tell. The texture is super moist and soft on the inside, with a tender crumb on the outside. The cupcakes are sweet and full of chocolate flavor, taken up a notch by the creamy frosting!
I had some friends over for coffee the other day and served them these cupcakes and NO ONE believed me when I said they were healthy- They thought these were just like the bakery ones!
Ingredients to make healthy cupcakes
Here are the ingredients you'll need to make these cupcakes. Please do not substitute any of the ingredients unless specified.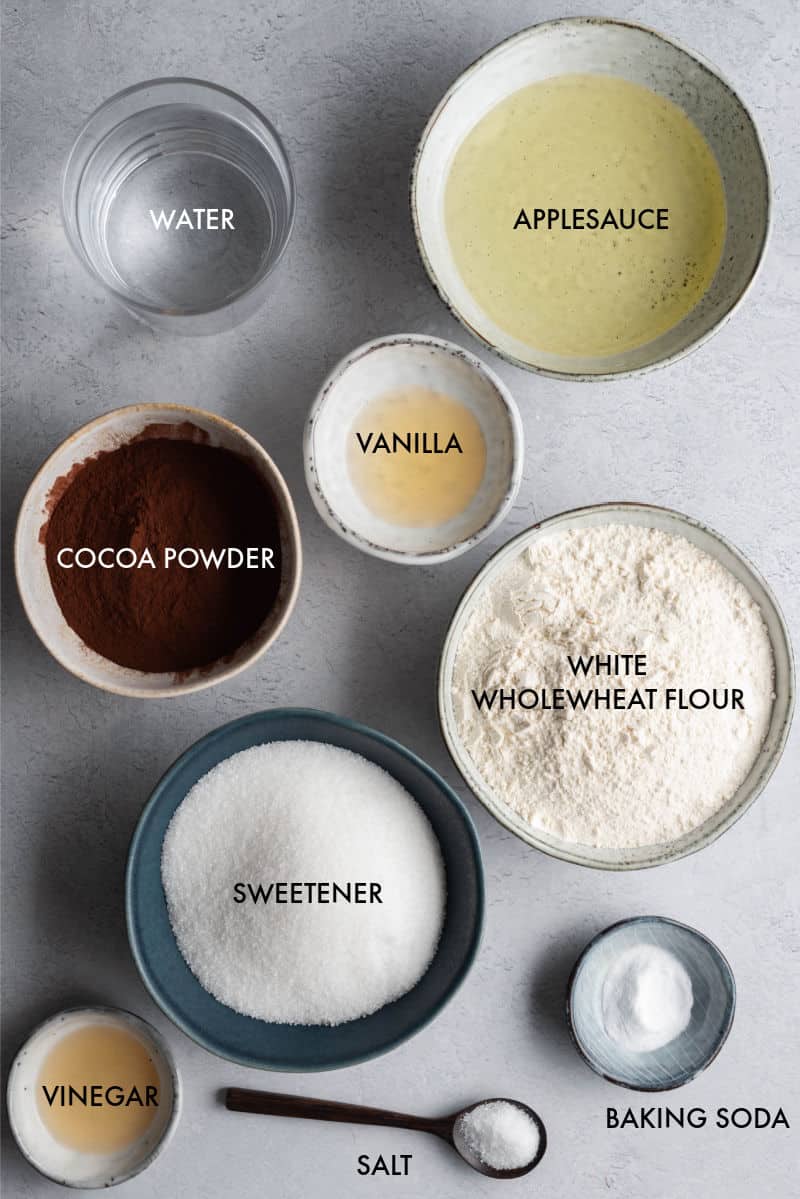 For the cupcakes
Flour– I used white whole wheat flour, which is a healthier alternative to all purpose flour. Wholewheat flour and white flour can also both be used.
Cocoa powder– Unsweetened and sugar free cocoa powder. Use dark cocoa powder for an even richer chocolate flavor.
Granulated sweetener of choice– Any zero calorie baking sweetener can be used. Monk fruit sweetener, erythritol, and baking stevia all work.
Baking soda– Gives some rise to the cake, and works with the vinegar to replicate what eggs would traditionally do.
Salt– Brings out the sweetness of the cupcakes.
Vinegar– White vinegar or apple cider vinegar. Avoid using red wine vinegar as the flavor can be overpowering.
Vanilla extract– A must for any good cupcake!
Unsweetened applesauce– A fabulous replacement for butter and oil.
Water– To mix everything together and form a smooth batter.
Frosting– What is a cupcake without frosting?  I used a healthy frosting.
How do you make sugar free cupcakes?
Start by mixing together your dry ingredients until combined, Next, add the vinegar, vanilla extract, applesauce, and water, and mix until combined.
Now, distribute the cupcake batter evenly amongst a 12-count muffin tin, lined with muffin liners,  approximately filled 2/3 full. Bake the cupcakes for 15-17 minutes, or until a skewer comes out mostly clean. Remove them from the oven and let them cool in the tin for 10 minutes, before carefully transferring them to a wire rack to cool completely. Once cooled, pipe the healthy frosting on top.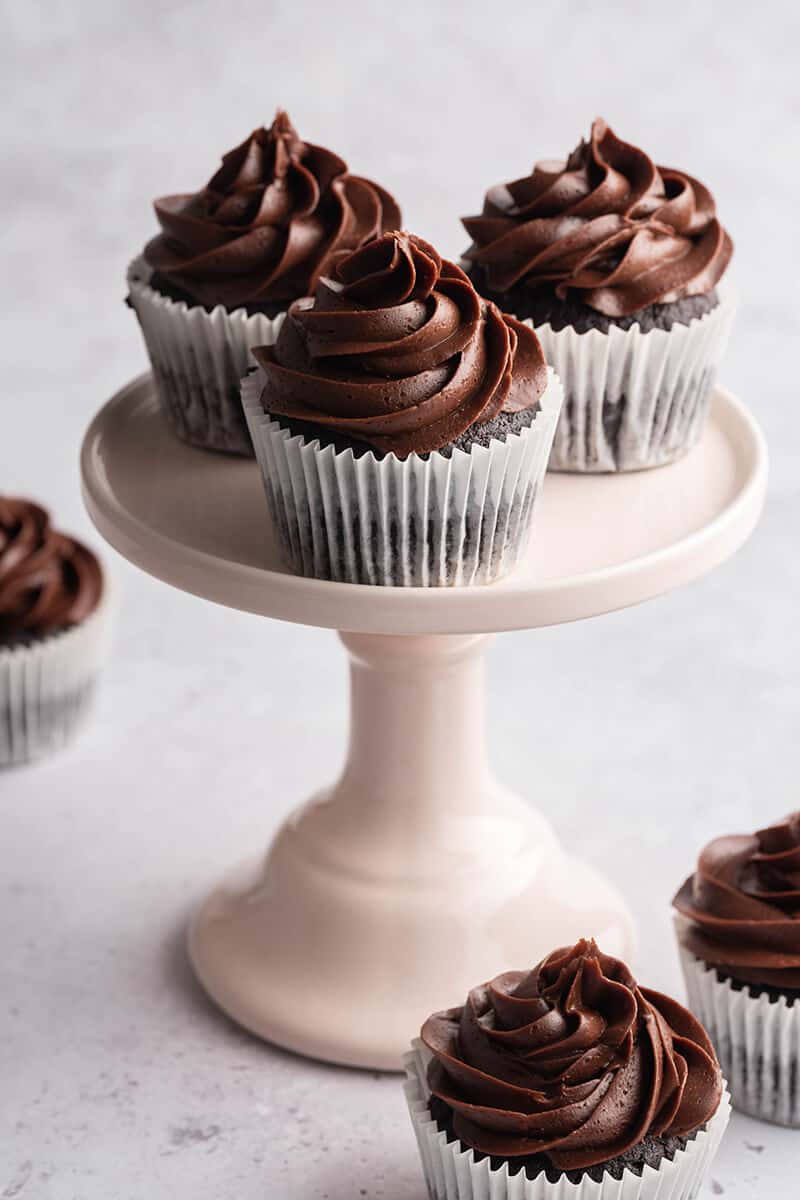 Tips to make the best healthy chocolate cupcakes
For richer cupcakes, replace half the applesauce with vegetable oil. It will add a small amount of fat, but transform the texture.
You can substitute the applesauce for mashed banana, but you'll be able to taste hints of banana throughout.
Avoid overbaking the cupcakes as they continue to cook as they are cooling down.
Storing and freezing cupcakes
To store: Cupcakes will keep at room temperature in a sealed container, for up to 1 week. Store them in the refrigerator if you'd like them to keep longer.
To freeze: Place leftover cupcakes in a ziplock bag and store them in the freezer for up to 6 months.