"ONAR" Boutique Hotel- Andros Island
Our heritage has its roots in one of the earliest and most important civilizations in the Mediterranean, which is known for its peaceful growth and sincere hospitality.
Our name comes from Ancient Greek and means dream.
Here at Onar, with this extraordinary gift, our mission is to make your dream for nature, relaxation and conviviality come true, with our formula of sustainability and warm discretion. Since years, we invite you to let yourself be lured into the unparalleled harmony of this small heaven on earth.
A settlement of ten individual stone houses hidden in a gorgeous, intimate cove on the east coast of Andros is waiting for you.
Our effort aims to welcome you as individual explorer, couple, family or group, to host your dream and to reveal, with honor and creativity, the valuable natural environment and cultural wonders of Andros.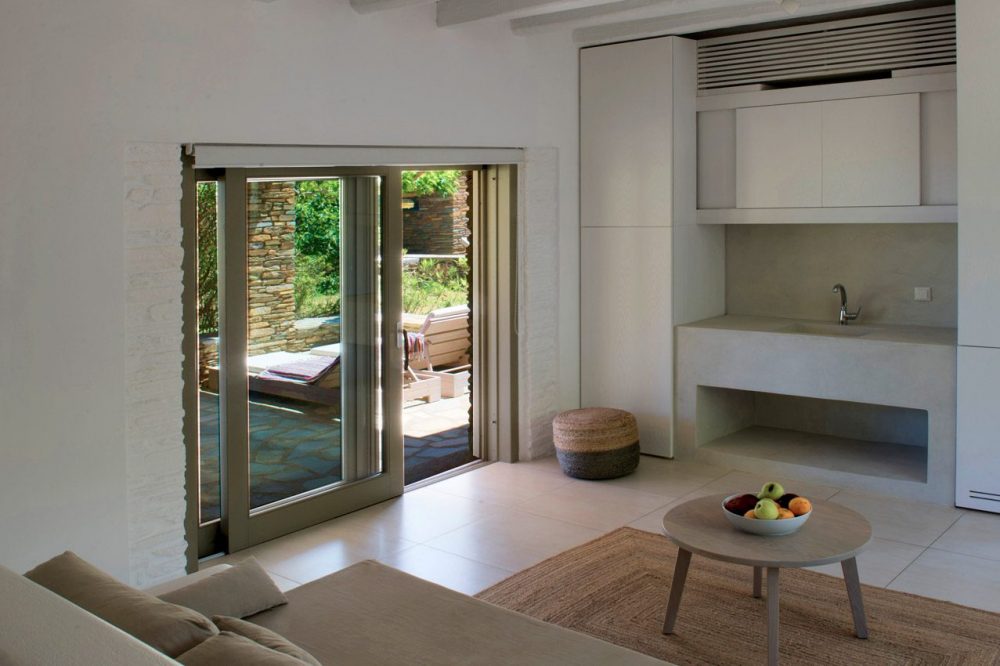 Our philosophy inhabits each and every activity of ours. With our daily commitment to respect Andros's nature ecosystem, our basic concern is the least possible intervention in the natural landscape. Building our Houses with natural local materials and preparing our meals with ingredients from our certified organic cultivation promote our efforts for authentic Greek hospitality. Seeking ways for developing alternative forms of energy and ecological activities are pivotal pillars of Onar's peaceful everyday life near the nature.
Come here, unwind, make yourself at home. Listen to the magic of local stories and ancient legends, recounted again and again, search for adventures, wander through the Mediterranean vegetation, while the sun, the sea, the delicious fresh food and the simple décor will reinvigorate brain and body. Sit round the fire drinking wine in the evening, bask in the morning sunshine around a communal table under a giant plane tree, or walk slowly along the riverbed to Ahla beach and its atmospheric chapel: this is the stuff great holidays are made of..
Come closer, the dream begins.
website: www.onar-andros.gr
Living Postcards