Throughout the 10-year effort to bring to movie screens the saga of the wonderfully strange, outrageously gifted rock band Queen, whether or not the film would be worth watching always hinged on one make-or-break factor. Who could possibly play rock god Freddie Mercury, one of the most charismatic, seductive, outrageous and golden-voiced front men in rock history?
Sacha Baron Cohen spent six years attached to this endorsed-by-the-band project he somehow thought could be an incisive, no-holds-barred Mercury biopic. He bailed, reportedly once he figured out that Queen survivors guitarist Brian May and drummer Roger Taylor wanted a PG-13 movie in which the larger than life Mercury would die of debauchery, drugs and AIDS halfway through the running time and the rest of the flick would be about the band carrying on from there. Terrible idea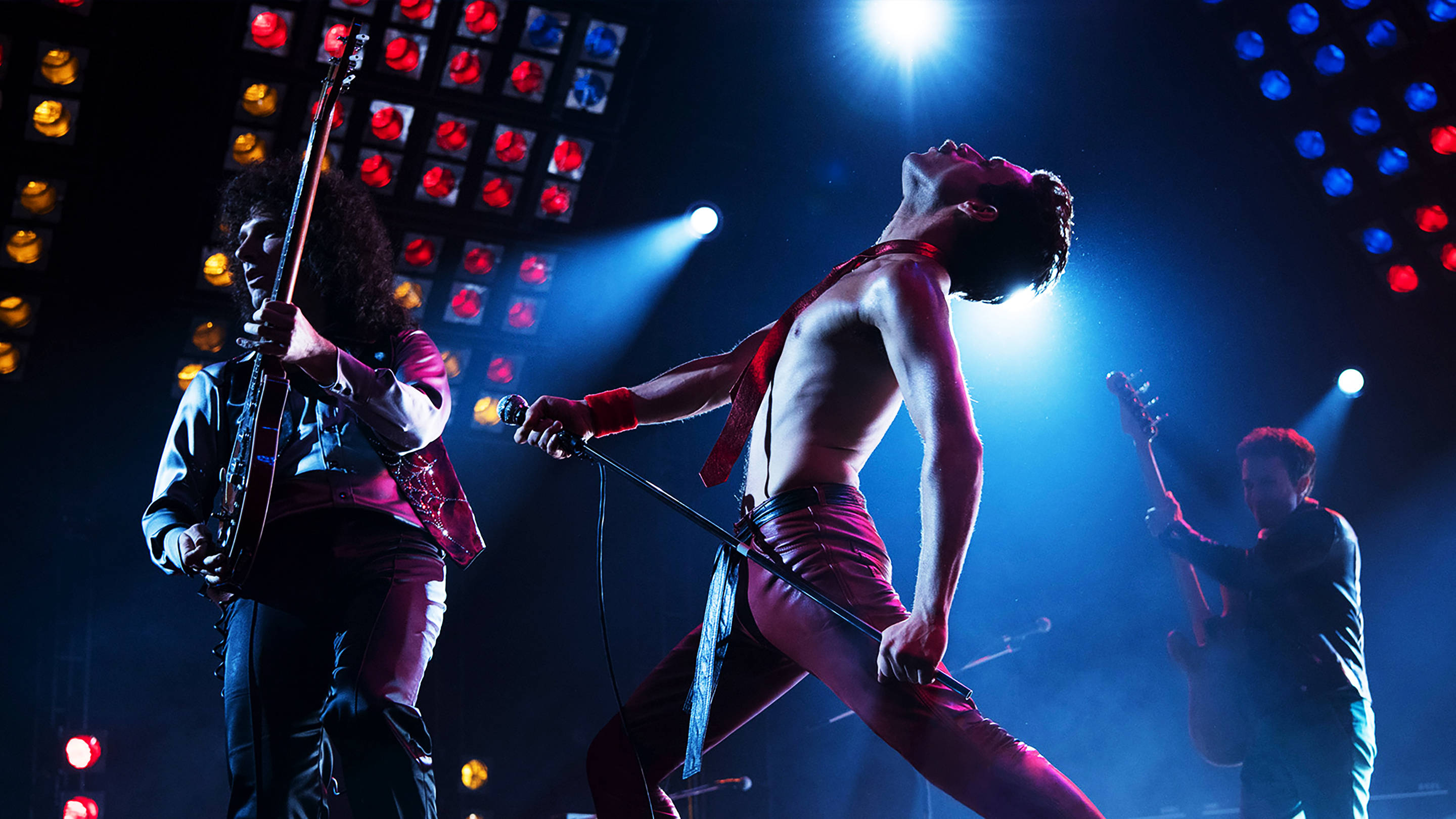 The great Ben Whishaw nearly starred in the movie, but the really good news for those who see the formulaic, creatively conservative Bohemian Rhapsody is that Rami Malek, best known for TV's Mr. Robot, owns the Mercury role, and he dominates it from beginning to the bitter end. Even with a succession of dubious wigs, a distractingly terrible set of false teeth, a sinewy build compared to Mercury's and being stuck in a clichéd rags-riches-rags-riches structure, Malek has so nailed the grandiosity, exoticism, prowling sexuality and vulnerability that he supercharges the movie, even through its roughest patches—of which there are many.
The movie, written by Anthony McCarten (The Theory of Everything) from a story by Peter Morgan (The Crown) begins dully with the flamboyant Zanzibar-born Freddie (born Farrokh Bulsara) working as an airport baggage guy after immigrating to London with his Indian Parsi parents (Ace Bhatti and Meneka Das), with whom he clashes. In nothing flat, he auditions on the street for a struggling rock band called Smile, becomes its lead singer, dubs himself Freddie Mercury and rebrands the band as Queen.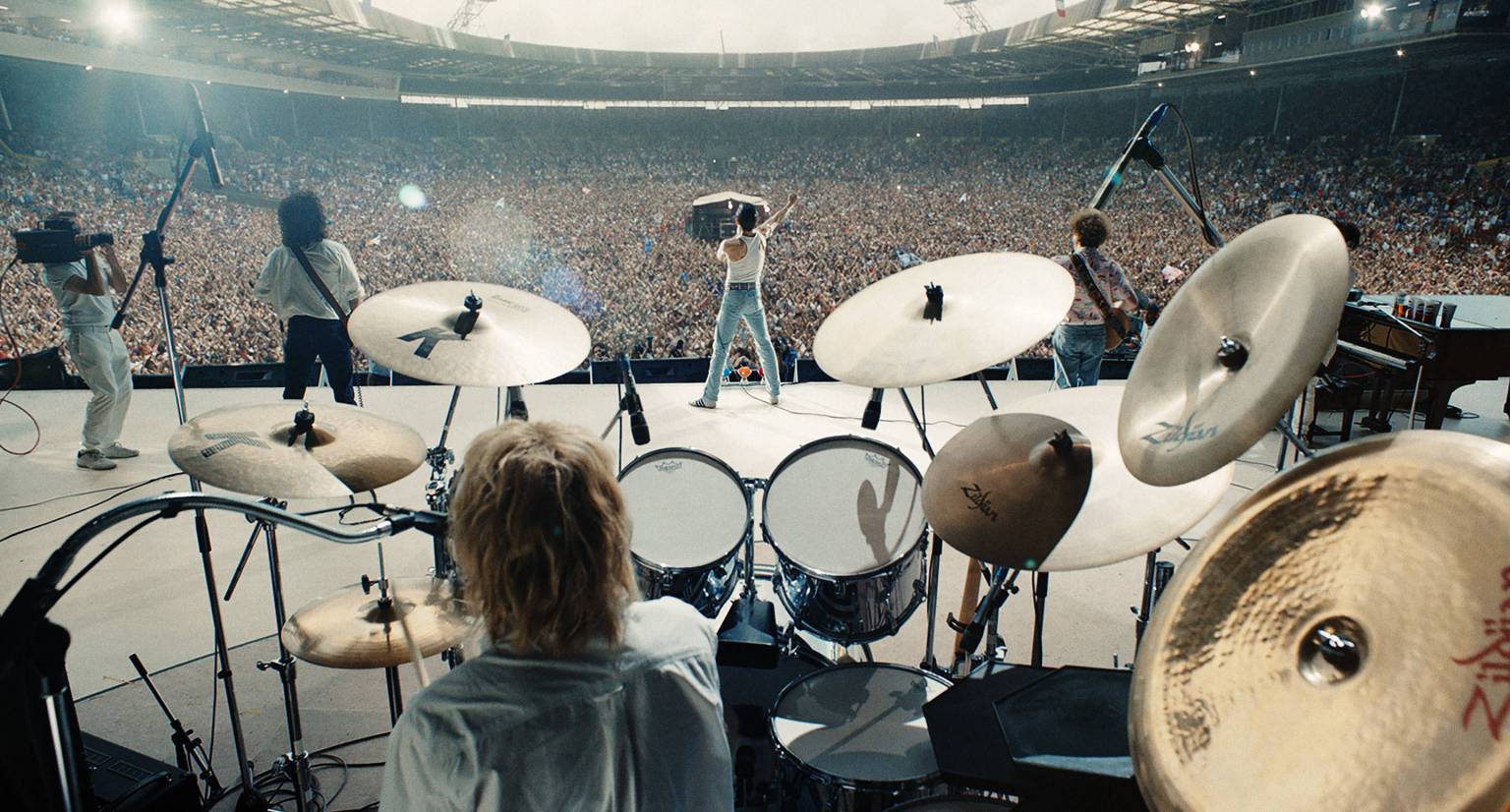 Wait a second. Has he sung like that all his life? What does his family know of his ambitions? Even though Bohemian Rhapsody doesn't stop to answer even those basic questions, we do. We never know, just like we never exactly know what drives his constant bickering and showy clashes with the fellow band members: skirt-chasing drummer Roger Taylor (Ben Hardy), even-keeled guitarist Brian May (Gwilym Lee) and bassist John Deacon (Joseph Mazzello, who doesn't get to do much but, like Hardy and Lee, is very good).
What we do get a fix on is that the artistically ambitious Mercury constantly wanted to break musical barriers, was supported and undercut by managers (Aidan Gillen, Tom Hollander and Allen Leech, each as excellent as expected), collected cats, gathered around him a pack of parasites and users and that as much as he cared for his girlfriend-soul sister Mary Austin (an excellent Lucy Boynton), he became consumed by haunting gay leather bars, gulping pills, snorting coke, cruising butch men, drugging and throwing extravagantly debauched parties. "I am exactly the person I was always meant to be; I'm not afraid of anything," he tells Mary, and he finally leans into his sexuality.
Mercury helped Queen vault to the pantheon of rock royalty, and scenes involving the creation of bombastic earworms including "Killer Queen," "We Are the Champions" and especially the title song, are strong and soaring. It's all very well when Mercury's rising, but when he hits his hedonistic bottom, things get bleak. Malek embodies Mercury as a tragic, tortured, desperately lonely figure, estranged from his beloved Mary and the band members. As if all that weren't enough, the screenplay plays fast and loose with truth by giving Mercury AIDS two years before his actual diagnosis in 1987. This helps jerry-rig the movie's big finale, a bang-up recreation of Queen's astonishing 1985 20-minute set at London's Wembley Stadium for Live Aid, a career benchmark for Mercury and Queen that reached an audience of 1.9 billion people.
As lovingly as the movie traces the friendship between Mercury and Mary, it skimps on the details of his long, rich relationship with his gay partner Jim Hutton, played very nicely by Aaron McCusker, despite how much screen time he must spend staring lovingly at Mercury from the sidelines. Even with the exclamation marks of Malek's performance, Bohemian Rhapsody plays without real flash, panache or depth. Considering its tumultuous production history—actors Malek, Holland and other personnel complained about director Bryan Singer's absences and lack of professionalism, and Fox brought in Dexter Fletcher to replace him—the film is surprisingly smooth. Too smooth. The way Freddie Mercury lived his life, he deserved a movie guaranteed to blow our minds. Think, say, director Ken Russell at his balls-out, gaga peak. PG-13 just won't cut it.