Shaken, stirred or simply sensational, head to these cocktail dens for the best mixed drinks in Manchester
With as many quality bars, restaurants and clubs as we have in Manchester, it comes as little surprise that we're a city known for appreciating a well-crafted drink. From twists on the classics to creative concoctions crafted with ingredients sourced from across the globe, Manchester's cocktail bars are proving themselves some of the best in the business. We've put together our pick of the best, so if you know your manhattans and martinis from your pina coladas and pisco sours, take a peek and partake in a tipple or two.
Apotheca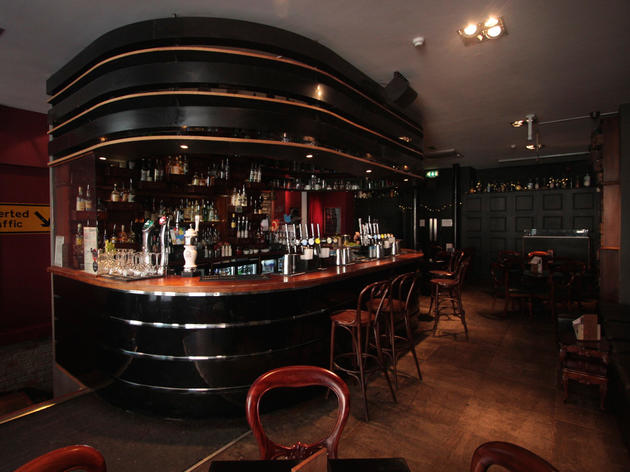 The Northern Quarter is home to many a decent cocktail joint, but the appeal of Apotheca is that it makes mixology both approachable and unintimidating for the masses – especially the hordes it welcomes at the weekend. Taking its name from the former apothecary it now calls home, the bar acts as a modern-day chemist to Manchester, with remedial pick-me-ups its forte. The interior was overhauled in 2015 with small reminders of the building's past life. Unusual antique apothecary cabinets sit alongside contemporary leather sofas, and old-style martini saucers beside modern, angular tumblers. It soon begins to feel like a magnificent, tangled time warp.
By playing around with popping candy, wasabi, salted caramel bacon and pink wafers, booze here gets the Willy Wonka treatment. It makes for a diverse selection of twisted classics and innovative house mixes. Try the Bacon and Brown Sauce Bloody Mary, the aromatic Hazy Memoirs of a Geisha or the delicious Honey and Fig Caipirinha. Better yet, head over during the week before 7pm on Fridays and 5pm on Saturdays and bag yourself two for £12.
The food is a selection of the 'best bits' from nearby neighbour and Italian pizza kitchen, Dough. Judging by the queues snaking from its doors most evenings, it's pretty much a sure thing. With nibbles, light bites, sharing platters and pizzas, it's the sort of food you want to nibble on as you wind down after work, the only downside being that the demand next door can sometimes affect waiting times.
A solid drinks selection, friendly doormen and a lively weekend atmosphere make Apotheca a good all-rounder. And for those eager to replicate the experience at home, they also offers cocktail classes that let you in on the secret world of their weird and wonderful approach to mixology.
Dusk Til Pawn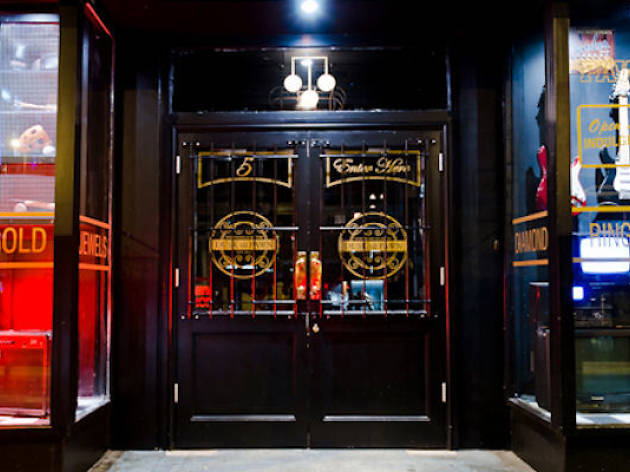 Impressive house-cocktails, brilliant bourbons and a whole menu dedicated to Bloody Marys. This place knows its drinks.
Veiled by neon lights and a misleading pawn shop façade that keeps it hidden, Dusk Til Pawn packs a powerful punch for such an unassuming spot. It's got the brooding aesthetic of a New York speakeasy, with industrial stools, corrugated metal, a totally free jukebox serving up a heady mix of Prince and Eurythmics, and plenty of dark, moody wooden furniture.
Showmanship comes with its cocktails, where umbrellas are cast aside in favour of garnishes of crunchy, savoury celery packed with sweet apricot jam. House infusions play a big part, with plum and celery gins, scotch bonnet and chipotle tequilas, fig bourbon and hibiscus rum are made on site to tart up the tipples. Try the signature 'Pawn' Star Martini, with vanilla vodka and butterscotch schnapps and a free side of champagne sorbet, or feel a Million Dollars with the oak-smoked, barrel-aged, bourbon Old Fashioned, infused with fig.
Alongside their cocktail expertise, Dusk Til Pawn also houses one of the best bourbon and American whiskey selections in town as well as choice beers (Big Wave, 13 Guns), wines and dry French cider. But if you still can't find what you're after? Go off-menu and challenge the bartenders to create something bespoke. The owners also own clubby Noho next door, and a new, off-Deansgate cocktail bar called Wood and Company.
Epernay
Champagne by the glass in a sophisticated setting. Head for the stunning outdoor terrace when the weather suits.
Primarily a champagne bar, Épernay serves up a touch of class. Somehow it has managed to remain one of Manchester's best-kept secrets, with its altogether more subtle brand of promotion a far cry from the giddy hype that follows many other joints.
Nestled among the hustle and bustle of Deansgate, Épernay brings a bit of French elegance to the city centre, with dramatic full-length windows, stylish exposed brickwork and an art deco-inspired aesthetic.
Arguably its best feature is that champagne can be bought by the glass, which means you can have a fleeting taste of the good life without being forced to commit to it. Prices range from £6.50 to £12, with bottles between £39 and £200. Throw over a few more pennies for a splash of peach purée or cassis to complete a Bellini or Kir Royal.
Épernay also offers a variety of champagne cocktails, including a Champagne Punch described eloquently as being like 'a boozy Um Bongo'. For those after something less fizzy there are plenty of mules, martinis and margaritas. Cocktails are seasonal and change every six months, but could include Candy Shop Sling, raspberry vodka, Vimto liqueur shaken and topped with lemonade and garnished with pick'n'mix sweeties.
Épernay's clincher, though, is the breathtaking outdoor terrace that lets you capitalise on sunny afternoons and starry evenings. Sip champagne, watch the world go by and feel utterly regal.
The Pen and Pencil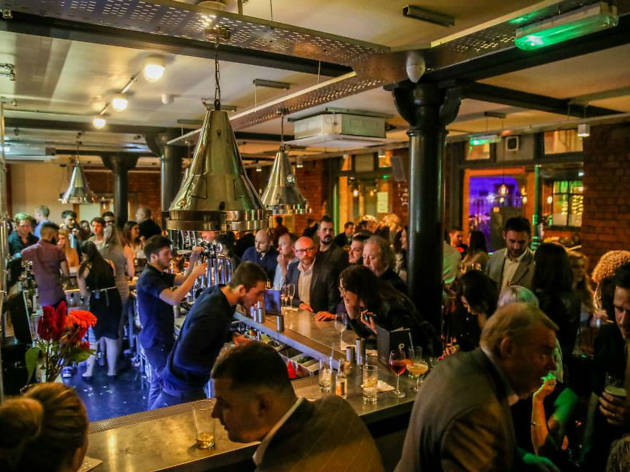 A Mad Men-inspired bar from The Violet Hour and Dry Bar alumni, open for 'Brunch, Lunch, Cocktails, Good Times'.
Filling its exposed brick shell with beautiful tan leather stools and classic copper barware, the interior of Pen and Pencil is slick, inviting and made only better by a set of sociable benches at the heart of the main room.
Along with a strong bar team serving up twisted classics and house specials like a fig julep and Beer in the Bronx (gin, homemade IPA syrup, grapefruit, sweet and dry vermouth), food-wise you'll find breakfast staples, sandwiches and salads. Plus, in the evening, bar fare including burgers, chicken wings, surf and turf, mac 'n' cheese and other American classics that nod towards the show that inspired the bar. But Pen and Pencil is not about the food. A roster of cool DJs includes local hero, Will Tramp, and the drinks really are the thing, with many referencing episodes or scenes from everyone's favourite vintage TV show, blended with no messing around.
Aside from what is possibly the worst and most ill-placed mural in Manchester, thankfully hidden away in its back room with equally baffling furniture, this sound joint is well suited to evening cocktails and late night antics, complete with good service and friendly doormen.