AirPods Pro ($219, originally $249; amazon.com)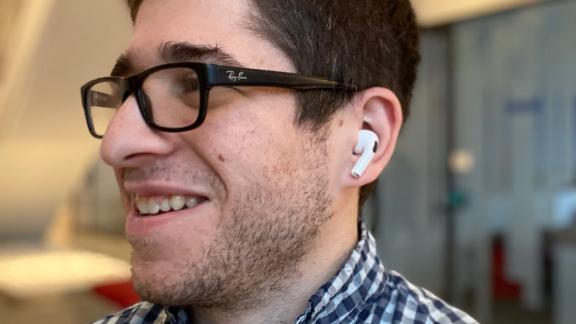 The AirPods Pro are the ultimate earbuds for those in the Apple ecosystem, providing seamless pairing with iPhones, iPads and MacBooks complete with a few handy exclusive features (but don't worry — they still sound great on any device).
As soon as you open the lid on the AirPods Pro case, the true wireless earbuds start casting a connection to iOS devices; with non-Apple devices you'll head over to Bluetooth in order to manually connect to the AirPods Pro when first pairing. After that, opening up the case and placing them in your ears will have them connect. While it may be quicker for iOS devices, in our testing we found the connection to be sturdy and stable with 38 different devices, many of which were not Apple-made. We didn't experience any dropouts, and using non-Apple devices didn't affect battery life.
Those pairing with an iPhone also get the "Ear Tip Fit Test" during the initial pairing process. Essentially, this uses Adaptive EQ and pulsating tones to measure which size tips are correct for your ear. Those on iOS devices can also take advantage of Spatial Audio, which delivers immersive 360-degree sound for supported shows and movies (such as those with Dolby Atmos). This feature made films such as "Avengers: Infinity War" even more engrossing, as the sounds of Thanos' chilling voice and Iron Man's explosive rockets would come from a consistent direction even as we turned our head. The Ear Tip Fit Test and Spatial Audio are exclusive to those on Apple devices, which makes the AirPods Pro especially ideal for iPhone owners. But they sound excellent regardless of where you listen.
The AirPods Pro seamlessly reproduce every note, strum, hit or keypress on a track. The sound output is custom-tuned in real time using Adaptive EQ. While other earbuds may come with a manually controlled equalizer, the AirPods Pro work in real time to analyze drivers, amplifiers and microphones on both the outside and inside of the ear in an effort to reproduce tracks as true to the artist's intent as possible. Alongside that tech, Apple amped up the bass on the Pros to a thumping degree compared to the regular AirPods.
This all comes into play on songs like "Ex's & Oh's" by Elle King, a pop track with a variety of instruments that earbuds often have a hard time deciphering between. The mixture of instruments across similar frequencies can at times lead to a tinniness or, worse, a crackling effect on the lower tones. With Adaptive EQ, AirPods Pro showcase each element of the track in a way that doesn't overwhelm you or sacrifice a portion of the mix. With the microphones and H1 processor analyzing the playback, it makes each instrument clear and eliminates harshness.
"I'm on Fire" by Bruce Springsteen has fewer instruments but an equally wide soundstage. On this track, AirPods Pro properly place instruments around you before swelling together to provide an experience that feels as if you're in the studio. Snares are clear and sharp on the left, rich guitars are at mid to high frequencies on the right and vocals sit in the center. AirPods Pro don't add any extra vibrancy to the track by upping tones, but rather present it in a balanced environment with an emphasis on placement of sound.
For a more powerful test that encompasses drums, pianos, multiple vocals, guitars and a saxophone, we opted for "Born to Run." With the AirPods Pro, you can clearly hear each instrument on the track as the Adaptive EQ works to mix the track in real time.
The volume produced at 50% is loud enough to block out most sound, even with noise cancellation turned off — that's a baseline that most earbuds can hit, as long as the seal is proper. AirPods Pro really show off a pro feature when you turn ANC on. Their noise-canceling ability rivals even the best over-ear headphones and are only bested by Bose's QuietComfort Earbuds, creating a truly immersive, studio-like listening experience. While flying with AirPods Pro in and the ANC turned on, the engine noise and plane environmental sounds are brought down to a whisper with the volume at 50%; turning the volume up to 70% sounds almost the same as when you were still on the ground.
Regardless of what media you're playing, AirPods Pro are more road-worthy than previous models. They're still not waterproof, but they are water- and sweat-resistant with an IPX4 rating. You can safely wear them during a workout, and the ear tips make them much more comfortable for activities like running or cycling in our testing, but you shouldn't go swimming with them. And no, don't shower with them.
When it comes to call quality, the AirPods Pro are just about the best buds we've tested. Apple's earbuds made our voice sound bright and true to life in voice recordings, offering better clarity than the more expensive Bose QuietComfort Earbuds and just barely edging out the Galaxy Buds Pro and Jabra Elite Active 75t.
You can comfortably wear these for long stretches, thanks to their design and long battery life — specifically five hours of it (you can quick-charge via the case for an additional five hours) even with ANC turned on. You can stretch that with ANC or transparency modes turned off.
AirPods Pro really land at the top of the mountain both in feature set and in price. At $219 (originally $249), these earbuds aren't cheap, but the sound quality, battery life, connectivity and class-leading noise cancellation will blow you away.
Samsung Galaxy Buds Pro ($199; samsung.com)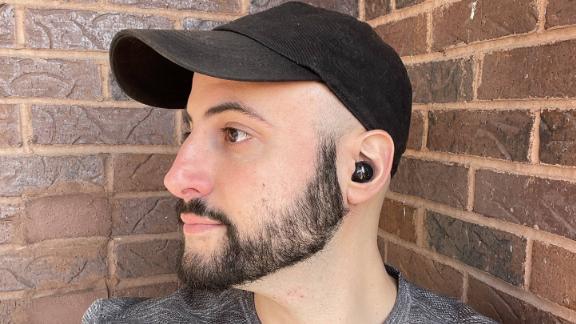 Thanks to the Samsung Galaxy Buds Pro, Android users have a worthy AirPods Pro alternative built specifically for those not tied up in the Apple ecosystem. While these Buds will work fine with an iPhone, they offer a ton of useful features exclusively for Android phones — not to mention strong active noise cancellation (ANC) and the ability to let in outside noise when you need it.
While not quite on the level of the AirPods Pro, the Galaxy Buds Pro's noise cancellation is solid for a pair of earbuds that undercuts many of its ANC competitors in terms of price. In our head-to-head tests against the AirPods Pro, the Buds Pro noticeably dampened the sounds of nearby cars, trains and street chatter. It helped make our everyday walks around the neighborhood more pleasant, though it didn't quite stack up to Apple's buds, which all but silenced those noises by comparison.
However, the Buds Pro really shine when it comes to letting in the outside world. Like the AirPods Pro's Transparency mode, the Buds Pro's Ambient Noise feature uses the earbuds' microphones to amplify sounds around you so you can better hear things like incoming vehicles or someone in your home trying to talk to you. And if you're on Android, you can switch between four different levels of noise based on how well you want to hear your surroundings.
That ability to customize your ambient noise is very handy — and something that other buds like the AirPods Pro can't do. While both earbuds let in a comparable amount of ambience on default setting, the Galaxy Buds Pro were able to amplify way more nearby noises (such as the sounds of people talking or our dog tossing a toy around in the next room) with Ambient Noise cranked up.
Better yet, the Buds Pro have a neat Voice Detect feature that allows Ambient Noise and ANC to work in tandem. With this feature activated, the Buds will automatically switch from ANC to Ambient Noise as soon as you start talking, and switch back after a few seconds of silence. This worked as advertised in our testing, and made it easy to do things such as order from our favorite cookie shop without having to fumble with any controls.
Other handy features exclusive to Android owners include the ability to switch between multiple sound presets, customize the Buds Pro's touch controls and activate the Bixby virtual assistant with your voice on Samsung devices.
Fancy features aside, the Buds Pro are simply a great pair of wireless earbuds. They're the most stylish and comfortable buds Samsung has made to date, with a sleek, curvy design that comes in Phantom Black, Phantom White and an especially gorgeous Phantom Violet. They also formed a secure but soft seal in our ears that made it easy to forget we even had them on after long hours of use. And thanks to their IPX7 rating, they endured splashes of water and kept on ticking.
The Buds Pro sounded great with a variety of music genres, providing deep bass, crisp guitars and vocals as well as a solid soundstage that allowed us to hear every component of our favorite songs clearly. Colleagues and friends had no issues hearing us when we used the Buds Pro to make calls, and voice recordings sounded similar in quality to that of the AirPods Pro.
The Galaxy Buds Pro fared well in our call quality tests, producing clear voice recordings that were largely on par with the AirPods Pro in terms of overall clarity. Our voice sounded bright and crisp on Samsung's buds, though a little more distant than they did on the AirPods.
Samsung's earbuds lasted roughly five straight hours with ANC on, and close to two days of on-and-off mixed use with the charging case. That's largely in line with Samsung's own estimates of four and a half hours with ANC on and up to 28 hours with extra features turned off while using the case.
Overall, if you're looking for a great pair of premium ANC earbuds that play especially nice with Android, it's hard to do much better than the Galaxy Buds Pro.
Best noise-canceling true wireless earbuds: Bose QuietComfort Earbuds ($279.95; bose.com)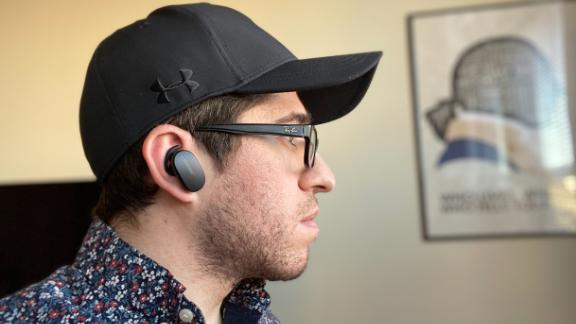 The QuietComfort Earbuds are, quite frankly, the best noise-canceling earbuds we've used to date — even better, in this regard, to the AirPods Pro. They fully block all background noise from a room in an instant.
In an apartment with a noisy central air system that was set to high, putting the QuietComfort Earbuds in and setting noise cancellation to 10 resulted in serenity. The QuietComfort Earbuds remove all tones, while AirPods Pro allow some noises to pass through.
There are also levels to the noise cancellation — 11, to be precise — and as you go up on the scale, the earbuds, microphones and algorithms work to block out environmental noise. You can even have no music playing and noise cancellation turned on to help you focus (a pretty handy work-from-home hack if we say so ourselves). Level zero is a transparency mode, similar to the mode on AirPods Pro, as it allows environmental noise in.
But fret not: That powerful noise cancellation doesn't hamper battery life. QuietComfort Earbuds fall slightly ahead of other earbuds with six hours of battery life, no matter if noise cancellation is on or off. Higher volumes and higher levels of noise cancellation do result in that falling closer to five hours and 30 minutes, though. The battery case provides two additional full charges, and it delivers a neat quick-charge function. A quick 15-minute journey in the case delivers two hours of playback. For comparison, AirPods Pro delivered five hours with no noise cancellation and four hours and 30 minutes with noise cancellation on.
Expectedly, sound quality from the QuietComfort Earbuds is in line with previous Bose earbuds and headphones. It's a rich and balanced mix that doesn't shy away from delivering an energizing audio experience, which is ticked up a few notches here with a more powerful bass and focus on lower tones.
EDM and pop genres absolutely shine with the QuietComfort Earbuds. "Wake Me Up" by Avicci starts with a simple guitar strum that sounds quite wide, with deep vocals overlaid. It comes through clear, with no distortion or cracking, even at full volume. About 38 seconds in you get a strong kick drum, which delivers a rousing bass beat that delivers in full force before more instruments, higher vocals and an electronic beat mask over the track.
The remastered version of "Born to Run" by Bruce Springsteen comes through vibrantly, and the QuietComfort Earbuds deliver an invigorating wall-of-sound effect, allowing you to clearly hear the drums, piano and guitar at the opening. All in all, it's one of the best mixes Bose has produced, and those who like EDM, pop or strong bass will be exceptionally happy here.
Bose's earbuds worked fine for calls over services such as Skype and Microsoft Teams as well as on FaceTime chats, so you can count on them for getting you through everyday meetings. However, the QuietComfort Earbuds weren't quite as clear and rich as the AirPods Pro in our tests.
Our biggest qualm is with their design, which is, summed up in a word, noticeable. They're quite large and have a long oval build that sticks out of your ear. While overall the buds are comfortable, you'll definitely notice them in your ears, as they're pretty heavy for true wireless earbuds. Each bud is 0.3 ounces, or 8.5 grams. AirPods, for instance, are nearly 3 grams lighter, and the same goes for Galaxy Buds Live. It's harder to forget these are in your ears; after the first few wears, you'll also feel that something was in your ears after removing them.
But if you can look past the not-so-discreet design, along with the $280 price tag, the Bose QuietComfort Earbuds bring a lot of features. Namely, they deliver the best noise cancellation on any pair of true wireless earbuds — besting the AirPods Pro and the Sony WF-1000XM3.