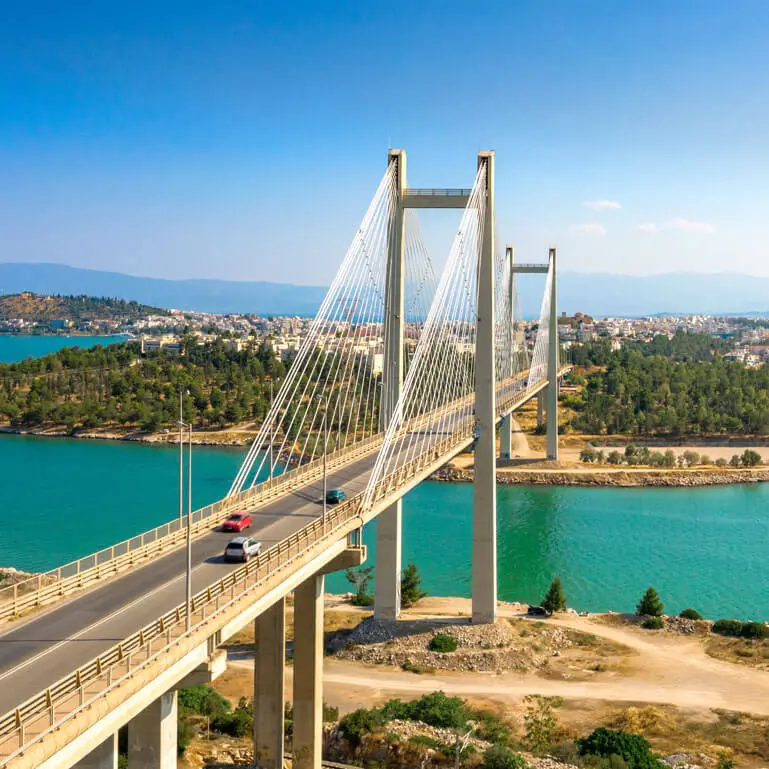 Only 80 km away from Athens, the city of the sacred fountain of Arethousa is the main gate to the island of Evia. Thanks to its strategic geographic position, the city has remained a crossroad of cultures and ideas over the centuries, an apple of discord for many foreign conquerors. Today the cosmopolitan city of Chalkida, the administrative and commercial centre of the island built on both sides of Evripos straits, is a popular destination among Athenians for short breaks away from the hustle and bustle of the capital city. Thanks to its impressive ultra modern cable bridge, the access to the city has now become easier and quicker.
Chalkida is particularly famous for the tidal phenomenon that takes place in Evripos, i.e. the swift change of water direction every six hours, created by the Moon's pull. During each change of direction the water stops moving for about eight minutes. An ideal place to watch this unique phenomenon is the sliding Negroponte Bridge. Another favourite meeting point for the locals is the waterfront; a charming pedestrian street lined with elegant cafes and restaurants buzzing with life day and night!
Around the City
Make a point of visiting the following quite impressive edifices: the Red House- the city's landmark, a neoclassical building with four clay statues on its top and the Town Hall, known for its beautiful harmonious architecture. Karababas fortress, a superb Venetian fort, stands on the top of Kanithos hill, offering a bird's eye view of the city and Evoikos Gulf.
Don't forget to visit: Τhe Archaeological Museum/ The Municipal Library/ the Municipal Art Gallery/ "Kamares" site/ the Roman Aqueduct/ Emir Zade Turkish Mosque / the Folk Art Museum/ the Spring of Arethousa/ the Railway Station/ the poet Giannis Skaribas' tomb located at Karababas Fortress/ the Byzantine church of St. Nicholas and the Early Christian Basilica of St. Paraskevi; there is a big bazaar held on July 26th (St. Paraskevi feastday) and the city "wears" a festive mood!
Activities: sports enthusiasts can take advantage of the facilities available and play football, volleyball, basketball, tennis or ride horseback at the city's equestrian club. During summer try exciting water sports like kite boarding at Lefkandi and Liani Ammos, fishing or water skiing.
Beaches: sun-bathing fans can bask in the superb beaches of Aghios Minas, Asteria, Rodies and Liani Ammos. On Alikes beach, the ultimate hotspot for young people, there is a variety of bustling bars where you can sip colourful cocktails and dance till you drop (!) – that is apart from enjoying the sea and sun of course!
Short trips: visit Nea Artaki; Lefkandi; Nea Lampsakos and Drosia if you're a sea food lover or Vathy (in the area of Avlida) for a tour in the archaeological site where the Temple of Artemis stands.
Accommodation: hotels offering high-quality services – most of them located in Chalkida or Aghios Minas- will guarantee a pleasant stay during your holidays!