If you've been searching for something to brighten up your home, look no further. Gods Own Junkyard is a psychedelic paradise of neon lights and vintage signs, all hidden inside an unassuming warehouse in deepest darkest Walthamstow. Although having said that, all this neon means Walthamstow is dark no more.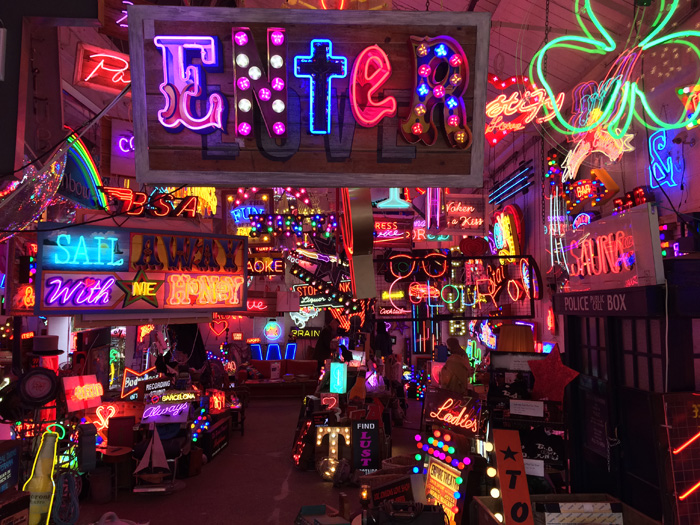 The story of Gods Own Junkyard is a fascinating one. Late owner Chris Bracey, the 'Neon Man', got his start by making signs for Soho's strip clubs and brothels. Soon, his talents were spotted by Hollywood, and he began fashioning props for directors such as Stanley Kubrick, Tim Burton, and Christopher Nolan
It isn't just former film props littering the place, however. Religious statues, disco balls, and retro signs adorn the walls, or simply in piles on the floor. Seriously, there are thousands of signs crammed in here.
You can spend hours peeking and prying at the range on offer. Thankfully, if you get hungry, Gods Own Junkyard operate their own on-site café, called The Rolling Scones. Alternatively, Wild Card Brewery's on-site bar is just across the yard.
Excitingly, Gods Own Junkyard's neon creations are for buying as well as ogling. You might want to come flush with cash though, because they are not cheap. (Hey, they've got to pay the electricity bill somehow.) Signs are available for rent – to hire one which says 'Love Dust' will only cost you £130 per week. Just please, please, never tell us why you need it.
Their Instagram feed is, as expected, a pretty wonderful sight to behold. So too is the gallery on their website, which features some brilliantly odd signs, my personal favourite being the one which simply reads 'James Blunt'. What can I say, Gods Own Junkyard – you're beautiful, it's true.
Location: Unit 12, Ravenswood Industrial Estate, Shernhall Street, Walthamstow, E17 9HQ. Nearest station is Walthamstow Central. See them on Google Maps.
Opening hours: They open Fridays and Saturdays, 11am to 9pm, and Sundays, 11am to 6pm. The Rolling Scones cafe is open for food and drink all weekend.
Entry: it's free to enter, but you'll have to pay to walk away with a sign.
More information: check their predictably colourful website.