The Story
The farm was originally set up by a family of entrepreneurs from Athens as a private getaway, somewhere they could escape the hectic pace of city life. They chose this particular location because they hailed from mountain villages in Greece's northern region of Macedonia and were seeking a rustic natural environment that was not too far from Athens but shared enough similarities with their place of origin to rekindle and sustain fond memories of their family traditions and childhood.
'Vasilikia' takes its name from one of the virgin beech forests in the birthplace of the farm's first settler, who chose the location outside the traditional village of Pavliani in 1984. Since then, the farm has undergone several phases of expansion and development.
For the past 30 years, family members have found the farm to be a romantic escape, a relaxing retreat and an ideal haven for developing their creativity. During this time, Vasilikia has come to reflect the impressions they received while travelling throughout North America, Central and Northern Europe, as well as Greece. The result is evident in the eclectic approach to architecture, interior/exterior layouts, and of course the decor, which features a collection of unique items from around the world.
The Setting
Set in a region of striking contrasts and spectacular landscapes, home to two of the country's oldest national parks and highest mountains, serene lakes, a diverse array of rivers and a picturesque coastline, the prefectures of Fthiotida and Fokida in central Greece comprise a harmonious mosaic of stunning vistas, quaint villages and historical monuments that stand as testament to Greece's glorious but turbulent past.This is a place of outstanding natural beauty where traditions and customs remain very much alive. A place where visitors have the unique opportunity to directly experience the wealth of cultural heritage the area has to offer, against a backdrop of incomparable scenery.A thrilling travel experience awaits those wishing to uncover the secrets of this ancient land as they discover forests steeped in mystery, remote snow-capped peaks, rivers that inspired myths and habitats rich with wildlife, through a wide range of rewarding activities.
The Location
The farm is located at an altitude of 1,010 m, just outside the charming village of Pavliani, which marks the entrance to Oiti National Park.Lying some 235 km from Athens, Pavliani actually comprises two villages, Kato (Lower) or Nea (New) Pavliani and Pano (Upper) Pavliani which are 2 km apart. It provides an ideal base for exploring the national park and engaging in a host of outdoor activities that will better acquaint you with the area's remarkable natural and cultural heritage. Though majestic in its rugged splendor, Mt. Oiti is easily accessible. In fact the locals say the entire mountain can be walked from end to end. Visitors can hike or cycle along dozens of clearly marked forest trails that wind through landscapes of unspoiled natural beauty, filled with the heady fragrance of thyme, ironwort, origanum and aromatic wildflowers. For those seeking a more relaxed pace, the setting is ideal for leisurely walks and picnics beside gurgling brooks or in secluded glades. There are also plenty of scenic routes to explore by car or 4×4, which can be combined with the sampling of traditional culinary delights in the surrounding villages.Regardless of the season, the farm has so much to offer. A truly year-round destination, it provides easy access to Mt. Parnassos and its two ski centers, enchanting Asproneri beach on the shores of the Malian Gulf, the UNESCO World Heritage-listed archaeological site and museum of Delphi. One interesting feature regarding the location of the 2.6 hectare farm is that one end lies on the outskirts of the village and the other is just a stone's throw from the heart of the forest.Vasilikia Mountain Farm is not only the ideal retreat for romantic getaways, ultimate relaxation and quality family time, but also the perfect springboard for a wealth of outdoor activities and your gateway to a world of adventure and discovery.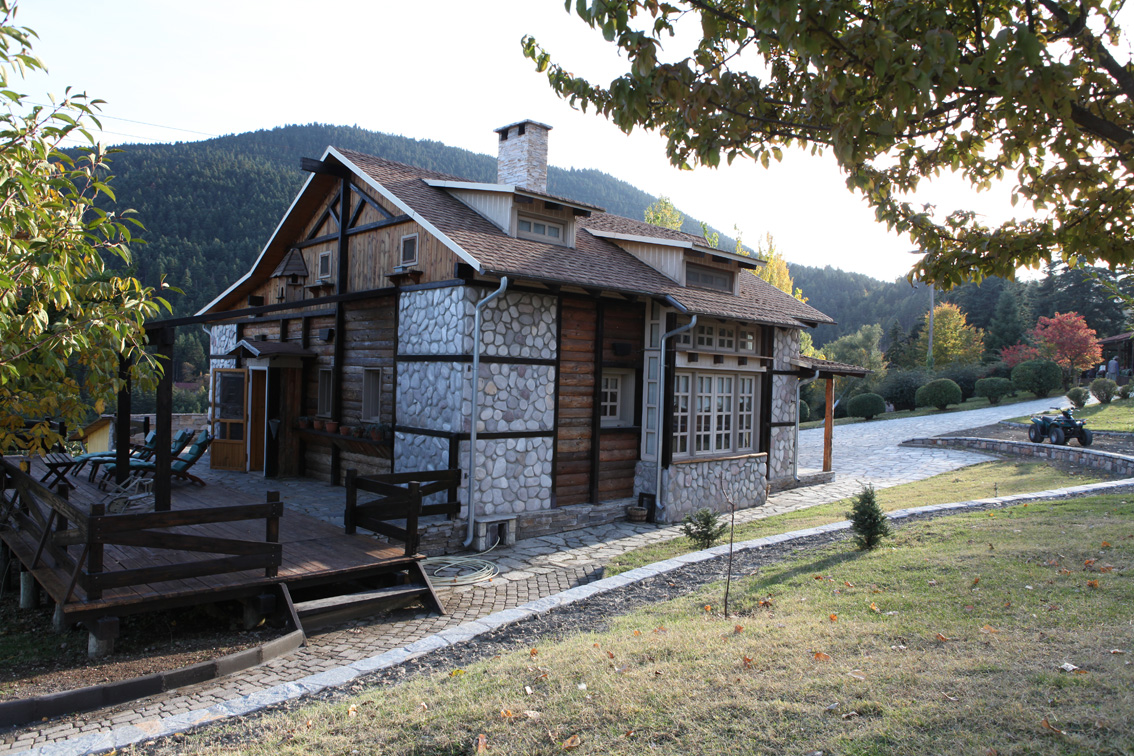 LIVING POSTCARDS