Sweet Life or Suite Life or both? Exploring The Connaught Patisserie and its pink universe!
Nestled at the side of the famous London hotel, with its own entrance, The Connaught Patisserie offers delicious pastries and patisserie alongside expertly made coffee, artisan tea and, of course, champagne.
The Connaught's Executive Pastry Chef Nicolas Rouzaud and his team have created pastries and cakes to carry you through the day – a large sculptural clock hangs in the patisserie, not to tell the time, but to show customers what they can expect and when, from an early morning pain au chocolat, to delicate afternoon patisserie, and cakes to pick up on the way home for a special post-supper treat.
Loaf cakes and 'gâteaux de voyage' – cakes historically designed to last throughout long pilgrimages – will sit on the counter, from lemon madeleines to walnut financiers and chouquettes, alongside a special exclusive from The River Café, a long-time friend of The Connaught. Their Chocolate Nemesis will be hand-delivered daily to The Connaught Patisserie – the first time the cake has been available outside of its home.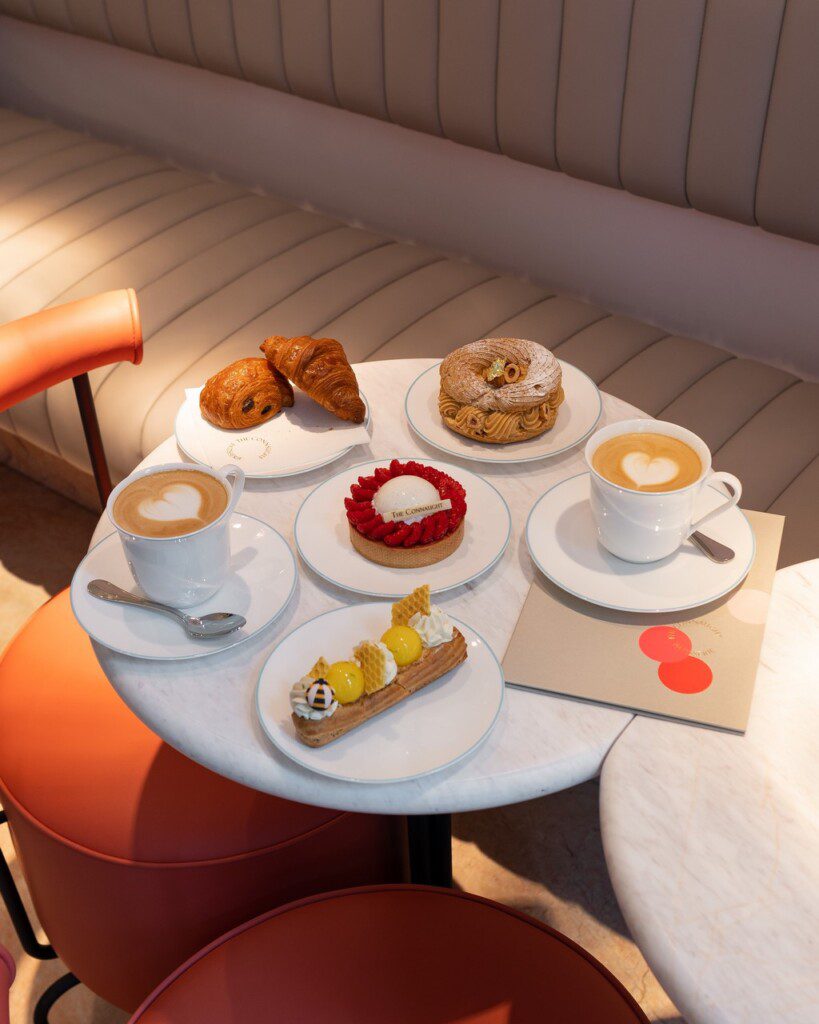 The counter is also home to an array of 10 seasonal patisserie – the true showstoppers in the shop. Included are classics such as Paris-Brest, Apple Tatin and St Honoré, and others showcasing more contemporary ingredients such as the vibrant Yuzu Éclair, the Mango and Passion Fruit Mousse cake, and the Chocolate Tonka Tart. One of these will be an ever-changing daily cake. The much loved Connaught hound which graces the hotel emblem, has been reimagined as a chocolate hazelnut cake, a miniature work of art which will be a patisserie signature.
London-based design studio Ab Rogers Design designed the space as if it were an intricately crafted jewelry box, with every element celebrating the craft of the artisan, to echo the precision and artistry of the cakes. Rosa Tea pink marble floors and pink polished walls cocoon visitors and provide warmth, whilst curves dominate in the form of voluptuous body-hugging chairs and intimate circular marble tables. Hand blown hot pink crystal lights hang over the tables, mirrors are used to reflect the quintessential redbrick of Mount Street, and bronze details are a final flourish. The design pièce de résistance is the warm white marble counter – the heart of the shop.
https://www.thehoteltrotter.com/