This year, the World's 50 Best Bars took a distinctly international approach, with outposts hailing from 26 different cities across the globe. Importantly, the 2022 edition also saw 14 new entries make the list, including new hotspots in Athens, Bangkok, Chicago, Dubai and Lisbon, however, it was hard to top Barcelona. The Spanish precinct best-known for its pumping nightclubs and heaving party culture took home top honours in this year's rankings, with Paradiso being named the Best Bar in Europe, alongside being named the World's Best Bar, sponsored by Perrier. The accolade marks the first time a bar outside of the historic cocktail capitals of New York and London has managed to nab the top spot, highlighting just how strong the global outlook is getting.
"Our heartfelt congratulations go out to each and every bar on the list and we are delighted to once again be able to showcase the incredible diversity of the global bar sector, from grand hotel bars and dive bars to neighbourhood speakeasies and stunning rooftop spaces," Mark Sansom, content director of The World's 50 Best Bars said. "The consumer appetite for quality cocktail bars just keeps on growing and to be able to introduce 14 new entries to help sate this and encourage travel plans couldn't make us happier."
Looking more broadly, London recaptured its crown as the cocktail capital of the UK, nabbing five placings in the top 50. Mainstay Tayēr + Elementary followed up its second-place finish in 2021 with another runner-up result, with Connaught Bar finishing in eighth place, along with Swift at number 30. In America, New York unsurprisingly took home the chocolates, reaffirming itself as one of the premier destinations in the world for top-quality drinks and nightlife. The North American icon scored a whopping six bars on the list, more than any other city in the world, including two entrants in the top 10. Double Chicken Please, which was also awarded the Disaronno Highest New Entry Award, came in at number six and Katana Kitten rose one place to number nine.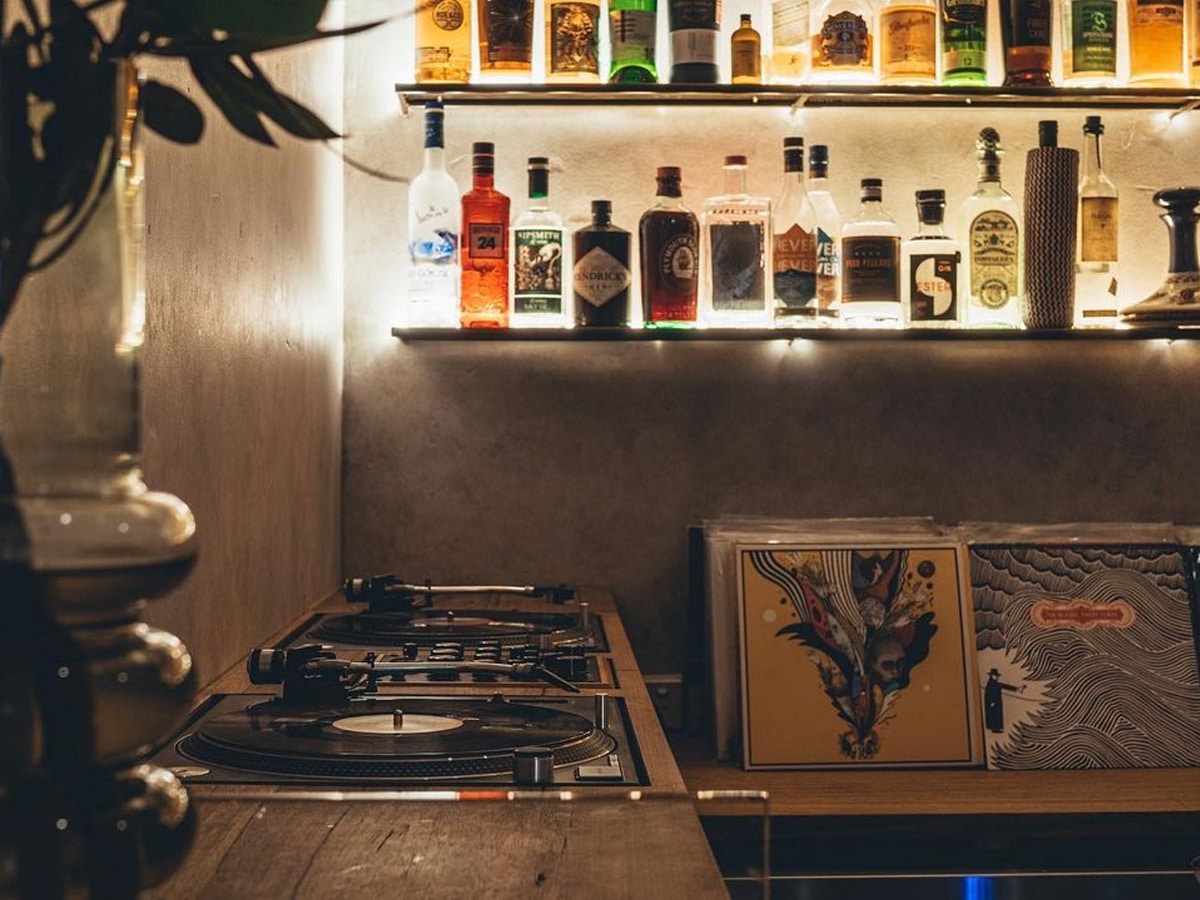 Locally, four bars managed to make the list, with Sydney institution Maybe Sammy being named Australia's best bar for 2022. The accolade marks the second successive year the cocktail bar has claimed national bragging rights, with Martin Hudak, Sarah Proietti and Paolo Maffietti's white coat venue continuing to stun patrons on a near-daily basis. Fellow Sydney based bars Cantina OK! and Re also made the list, proving the New South awakes capital is still Australia's cocktail destination. Elsewhere, Melbourne favourite Caretaker's Cottage scored recognition, coming in at number 60. The tiny brick cottage owned by the Wesley Church was named Melbourne's best bar, highlighting the remarkable breadth of the Victorian capital's hospitality scene.
"We are very honoured in 2022 to be able to support 50 Best in organising the largest ceremony to date in Barcelona, and thereby mark the kickstart of international travel for The World's 50 Best Bars event, sponsored by Perrier," Elisa Gregori, Perrier global business unit director said. "A big congratulations to the team at Paradiso for being voted The World's Best Bar, sponsored by Perrier, as well as all the bars that made The World's 50 Best Bars 2022 list! At Perrier we believe that human progress relies on the endless creativity of people that dare to see the world differently. So, we're extremely proud to shine a spotlight on the 2022 community of professionals, friends and family that do exactly that, pushing the envelope of creativity and hospitality."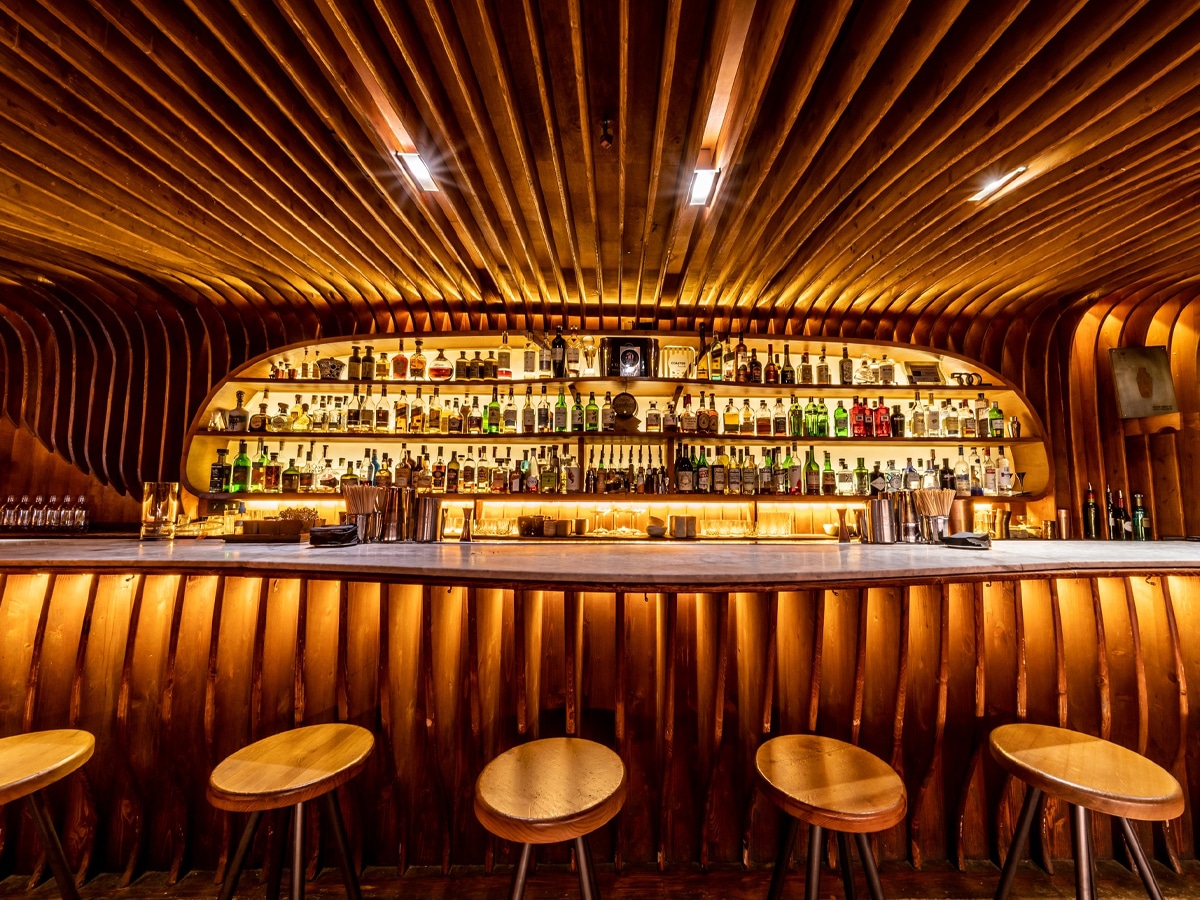 1. Paradiso, Barcelona
Hidden behind an antique refrigerator in the back of an unassuming pastrami shop in Barcelona's trendy El Born district, you'll find Paradiso. The quaint little speakeasy is a masterful blend of technique, precision and creativity that arrives with an "unwavering sense of fun", despite its understated exterior. As soon as you walk through the unassuming entrance, you're greeted by a majestic front bar that opens to a playful space littered with dramatic glass light fittings and Gaudi-inspired curved-wood ceiling.
On the menu, Paradiso doesn't disappoint either. The academy was impressed by the myriad of meticulously crafted cocktails served in outlandish vessels, such as the Supercool Martini which uses 'supercooled' gin to build an iceberg in the glass before tailoring the final product tableside for a uniquely personal guest experience. Better still, owners Giacomo Giannotti and Margarita Sader take a uniquely sustainable approach to hospitality, crafting coasters and bar tools from single-use waste and even hosting a Paradiso Sustainability Summit.
"The fact that this is the first time we have crowned a bar outside New York or London as The World's Best Bar is a testament to the huge achievements of Giacomo, Margarita and their team," Sansom said. "Since being named One To Watch in 2017 a year after opening, Paradiso has been a firm fixture of the 50 Best list, enhancing its ranking year after year. It is an honour to name it as The World's Best Bar and the win is credit to Paradiso's outlandishly inventive cocktail programme, sustainable ethos, work in the global bar community and brilliant sense of fun."
Service options: Dine-in · Kerbside pickup · No delivery
Located: A 2-min walk from the Santa Maria del Mar, Barcelona
Address: Carrer de Rera Palau, 4, 08003 Barcelona, Spain
Hours: Mon-Thurs: 5pm – 2:30am, Fri-Sat: 4pm – 3am, Sun: 4pm – 2:30am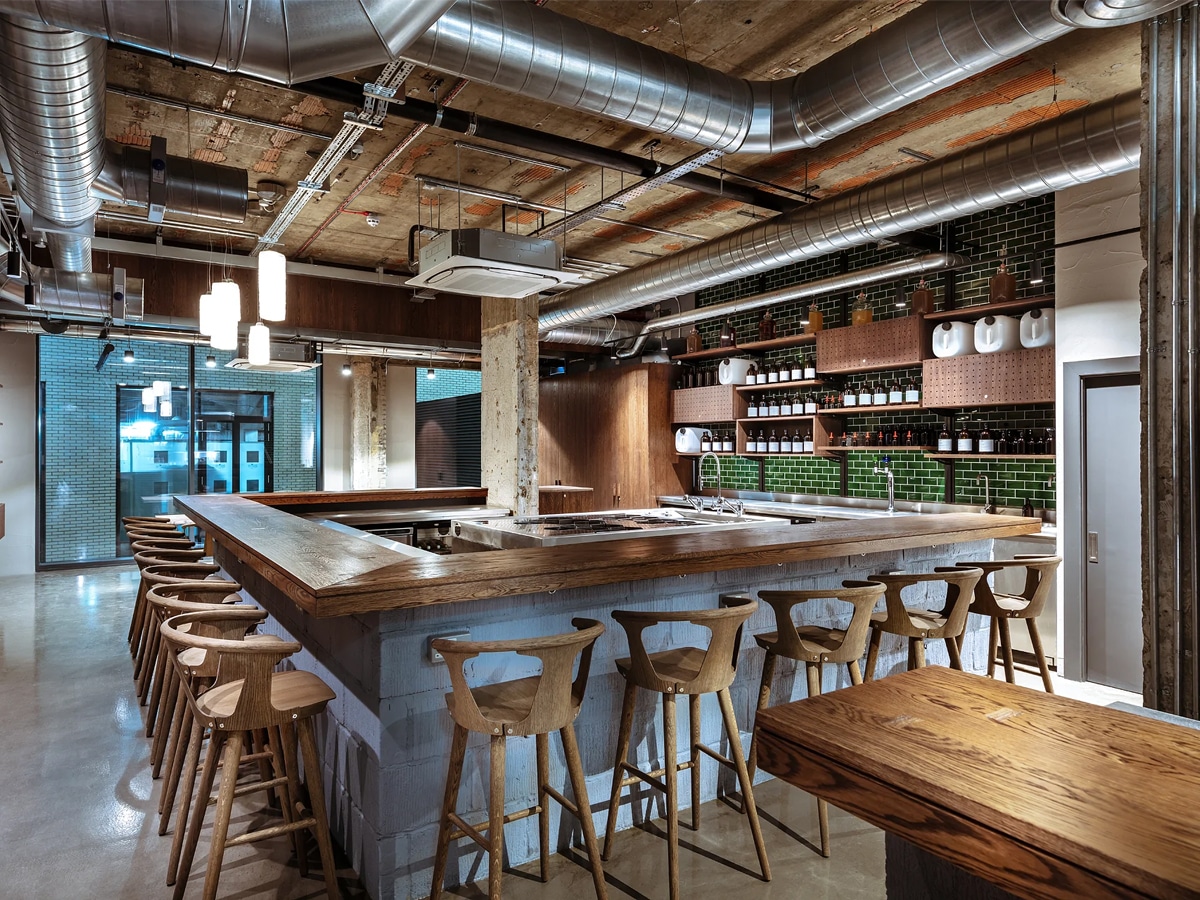 2. Tayer + Elementary, London
When Tayēr + Elementary first launched back in 2019, it exuded the kind of finesse you'd expect to see in a world-beating venue and despite a few upending years due to COVID, Monica Berg and Alex Kratena's hotspot is living up to the hype. The elevated cocktail bar is split in two, embodying a unique contrast of styles and aesthetics. Elementary is the industrially styled street-side space complete with a long communal table and seasonal cocktails served from the tap, ideal for the after-work bar scene or a quick drink. Tayēr, on the other hand, delivers a more "forensic, culinary" approach. Here, the team work with lesser-known ingredients brought to life through high-tech equipment to deliver new flavour experiences.
Service options: Dine-in · No takeaway · No delivery
Address: 152 Old St, London EC1V 9BW, United Kingdom
Hours: Tues-Wed: 3pm – 12am, Thurs-Sat: 3pm – 1am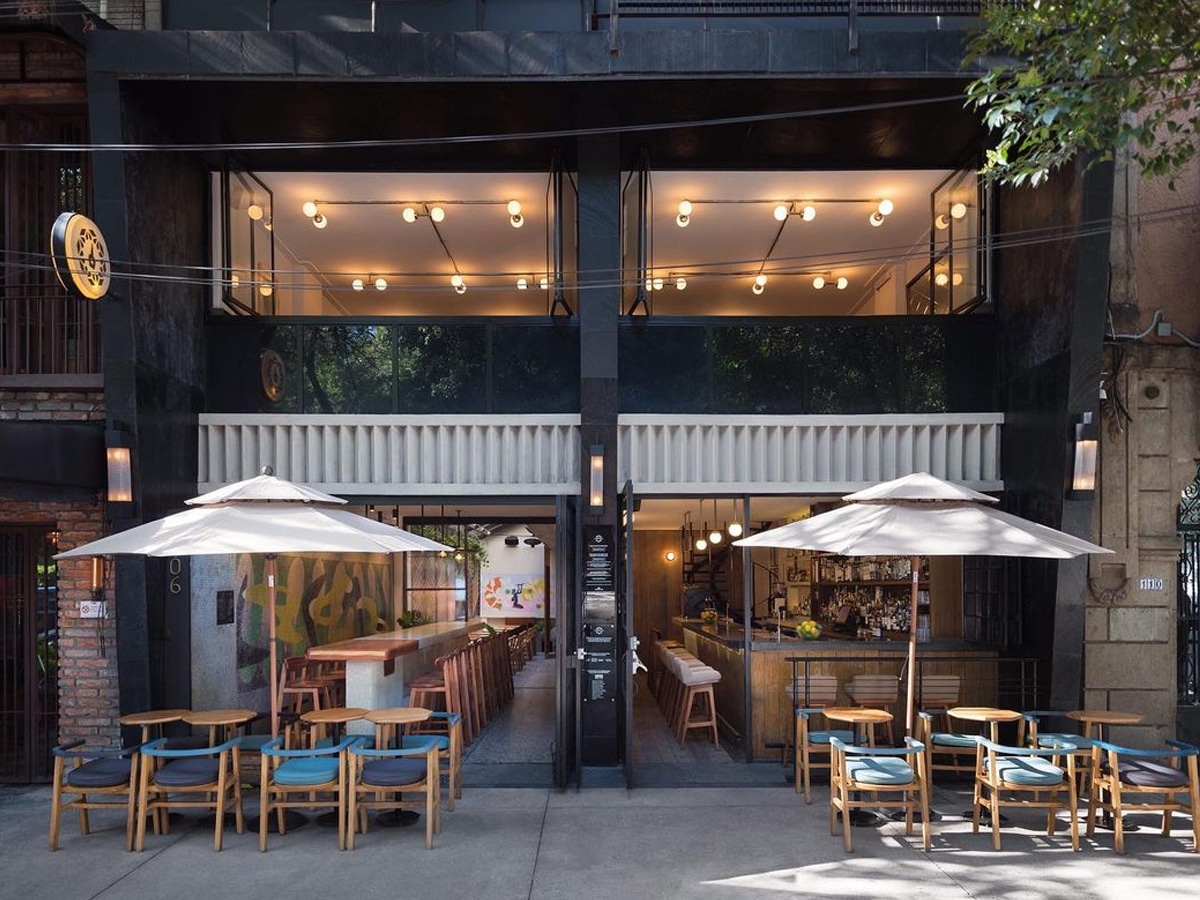 Licorería Limantour, Mexico City
Coming ina t number four in this year's list of the world's best bars is Licorería Limantour in Mexico City. The Benjamin Padrón and José Luis Leon-led institution has continued to push the boundaries of what a modern cocktail bar can do, dishing up a series of enviable menus over the years, many of which have birthed mainstay flavours, such as the Margarita al Pastor.
In early 2022, however, the team took a back seat, handing the reins over to six international bartenders, including those behind other bars on this list such as Julio Cabrera of Café La Trova and Dario Schiavoni of Bulgari Bar. The gamble paid off, with Licorería Limantour claiming the title of Rémy Martin Legend of the List, an award which is given to a bar that has performed most consistently in the list since its inception and can only be won once.
Service options: Dine-in · No takeaway · No delivery
Address: Av. Álvaro Obregón 106, Roma Nte., Cuauhtémoc, 06700 Ciudad de México, CDMX, Mexico
Hours: Sun-Tues: 6pm – 12am, Wed: 6pm – 1am, Thurs-Sat: 6pm – 2:30am
Phone: +52 55 5264 4122
 Little Red Door, Paris
Rounding out the top five in this year's list of the world's best bars is Little Red Door in Paris. The cosy, cosmopolitan hotspot in Marais is only located through, you guess, a little red door that offers an entrance to an untouched world. Taking a firmly farm-to-glass approach to cocktail making, current drinksmiths Alex Francis and Barney O'Kane have managed to continue the legacy set down more than a decade ago. Here, the pair curate and create a series of stunning drinks that embody an earthly feel that contrasts the busy city streets outside.
While it's still a venue characterised by cosmopolitan vibes and cocktails made with modernist techniques, Little Red Door has also added a more sustainable bow to its cap. This year, the bar won the Ketel One Sustainable Bar Award, which highlights the venue's focus on longevity and renewable resources, which was independently adjudicated by the Sustainable Restaurant Association.
Service options: Dine-in · Takeaway · No delivery
Address: 60 Rue Charlot, 75003 Paris, France
Hours: Mon-Sun: 5pm – 1am
The Clumsies
Athens
With its world-class cocktail list, beautiful food and warm Greek hospitality, The Clumsies is the bar you wish was in your neighbourhood. The central Athens all-day bar has the ability to flow effortlessly from a cosy daytime spot to a quiet night-time haunt to a full-blown party. This is partly down to its townhouse setting: from its statement bar in the front, terrace in the back, and private bar and billiard table up a wide staircase, the guest is always made to feel at home. But the real trick here, if there is one, is how naturally it all comes to co-owners Vasilis Kyritsis and Nikos Bakoulis, and their team led by head bartender Nick Sourbatis and bar manager Georgia Georgakopoulou.
The current menu, F<3lings, explores the emotions felt in a bar: Happiness, Excitement and Tenderness. But First Coffee, from Excitement, plays with different roasting temperatures of coffee maceration to create a play on a Dry Martini, while Another Colada, from Tenderness, twists a Piña Colada using aged mezcal, milk kefir and pineapple. Now a veteran of the list, The Clumsies has never found the acclaim to be a distraction, always remaining inviting, intelligent, but most importantly, really, really good fun.
Contact
50 Best Bars in the World 2022
While Barcelona, New York and London continued to firm as the world's premier cocktail destinations, there were a few other cities that managed to make a splash this year. The 2022 edition saw a number of new entrants make the list of the world's best bars, with two Aussie institutions breaking through.
"We decided to take the ceremony outside of London for the first time in order to shine a light on the other great cocktail cities of the world, and we are delighted to see so many new cities appear on the extended list for the first time – being able to recognise 32 different global cities out of the available 50 positions is particularly pleasing," Mark Sansom, director of content for The World's 50 Best Bars said. "All the bars announced today have continued, with outstanding resilience, to overcome the challenges that still face the industry, and it gives us great pleasure to celebrate double the number of establishments and their achievements."
The best bar in Australia didn't make the top 10, with our best-placed finish, Sydney's Maybe Sammy clocking in at number 29, while Melbourne's Caretaker's Cottage nabbed 60th place. Here is a list of the 50 best bars in the world for 2022.
1. Paradiso, Barcelona
2. Tayer + Elementary, London
3. Sips, Barcelona
4. Licorería Limantour, Mexico City
5. Little Red Door, Paris
6. Double Chicken Please, New York
7. Two Schmucks, Bercelona
8. Connaught Bar, London
9. Katana Kitten, New York
10. Alquímico, Cartagena
11. Handshake Speakeasy, Mexico City
12. Jigger & Pony, Singapore
13. Hanky Panky, Mexico City
14. BKK Social Club, Bangkok
15. Salmon Guru, Madrid
16. Drink Kong, Rome
17. Coa, Hong Kong
18. Florería Atlántico, Buenos Aires
19. The Clumsies, Athens
20. Baba au Rum, Athens
21. Café La Trova
22. Attaboy, New York
23. Satan's Whiskers, London
24. Tropic City, Bangkok
25. Kumiko, Chicago
26. Sidecar, New Delhi
27. Tres Monos, Buenos Aires
28. Argo, Hong Kong
29. Maybe Sammy, Sydney
30. Swift, London
31. Line, Athens
32. Baltra Bar, Mexico City
33. Manhattan, Singapore
34. Overstory, New York
35. 1930, Milan
36. Dante, New York
37. A Bar with Shapes for a Name, London
38. Zuma, Dubai
39. Locale Firenze, Florence
40. Red Frog, Lisbon
41. Cantina OK!, Sydney
42. CoChinChina, Buenos Aires
43. Himkok, Oslo
44. Carnaval, Lima
45. Galaxy bar, Dubai
46. L'Antiquario, Naples
47. Employees Only, New York
48. Bar Benfiddich, Tokyo
49. Lucy's Flower Shop, Stockholm
50. Bulgari Bar, Dubai
Best of the Rest (51-100)
51. Sago House, Singapore
52. Barro Negro, Athens
53. Cause Effect Cocktail Kitchen, Cape Town
54. La Factoría, Old San Juan
55. 28 HongKong Street, Singapore
56. Quinary, Hong Kong
57. MO Bar, Singapore
58. Mimi Kakushi, Dubai
59. Schofield's, Manchester
60. Caretaker's Cottage, Melbourne
61. Presidente, Buenos Aires
62. Tan Tan, São Paulo
63. The SG Club, Tokyo
64. Brujas, Mexico City
65. Analogue, Singapore
66. El Barón, Cartagena
67. Atlas, Singapore
68. Hero Bar, Nairobi
69. No Sleep Club, Singapore
70. La Sala de Laura, Bogotá
71. Tjoget, Stockholm
72. Three Sheets, London
73. Camparino in Galleria, Milan
74. Nutmeg & Clove, Singapore
75. Side Hustle, London
76. Candelaria, Paris
77. The Court, Rome
78. Röda Huset, Stockholm
79. Vesper, Bangkok
80. Dead End Paradise, Beirut
81. Lost & Found, Nicosia
82. Indulge Experimental Bistro, Taipei
83. Bar Goto, New York
84. Le Syndicat, Paris
85. Danico, Paris
86. Freni e Frizioni, Rome
87. Re, Sydney
88. Art of Duplicity, Cape Town
89. Donovan Bar, London
90. Republic, Singapore
91. Antique American Bar, Bratislava
92. The House of Machines, Cape Town
93. Mace, New York
94. Sweet Liberty, Miami
95. The Bamboo Bar, Bangkok
96. The Dead Rabbit, New York
97. Tag, Kraków
98. Zapote Bar, Playa del Carmen
99. Tesouro, Goa
100. Sin + Tax, Johannesburg