Explore the Fascinating History of the Dolder Grand's Easter Tradition and Feast Your Eyes on its Magnificent Eggs and Art Installations
Discover the stunning Easter egg traditions of The Dolder Grand Hotel, including the 2023 floral creation inspired by Memphis Milano's design, and the 2022 giant egg crafted from 12,000 carnations by Finnish artist Jani Leinonen. Dive into the intersection of art, design, and hospitality at this luxurious Zurich landmark.
A Floral Spectacle: 12,000 Carnations Bring Easter to Life at The Dolder Grand Hotel
The Dolder Grand Hotel in Zurich has long been known for its commitment to excellence in hospitality, luxury, and art. One of the hotel's most celebrated traditions is its Easter egg floral decoration, which sees the entrance adorned with a stunning giant Easter egg each year. This year, visitors to the hotel were treated to a truly unique work of art, an awe-inspiring installation by the hotel's floristry team.
This year's Easter egg is dedicated to Peter Shire, one of the most important representatives of the Memphis Milano design collective. Shire's famous work, the Big Sur sofa, is being honored with a 3.5-meter floral foam structure Easter egg that perfectly mimics the sofa's shape. The egg contains circles, rectangles, and pyramids in five different colors and is made up of 12,000 real carnations. It will take two days to construct and will be on display at the hotel's main entrance from April 6th for about one week.
An Unconventional Easter Egg: A Celebration of Memphis Milano at The Dolder Grand
As a retrospective summary of the Memphis Milano story, one could say that the group hit the ground running, turned everything on its head, and quickly dissolved again but managed to retain its relevance for decades to come. During a meeting in December 1980, the group, made up of designers, architects, and artists and led by the architect Ettore Sottsass, came to the decision to open up new dimensions within the international design world. Less than one year later, the collective opened its first exhibition at the Arc'74 Gallery in Milan where it showcased its furniture, lamps, clocks, and ceramics to the public.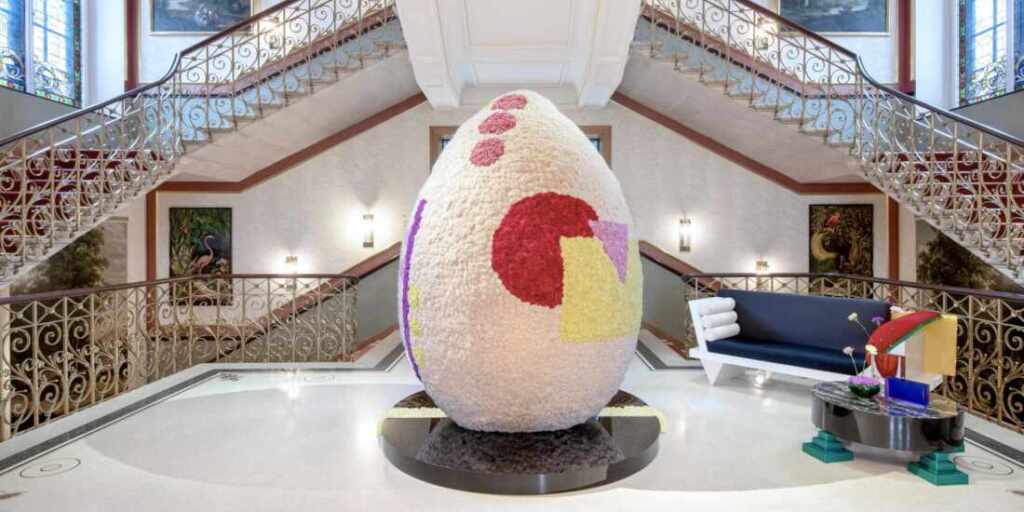 The exhibition was a breath of fresh air. Instead of functional (but also boring) designs, the collective introduced a hitherto unprecedented playfulness into their work. This included bright and acute colors, daring combinations of material and form, a light-hearted approach to decorative elements and plastics, and, last but not least, a rejection of the notion that form follows function. The exhibited objects were not designed to blend into the room and quietly sit in the background but rather to draw the observer's attention toward them and, at the same time, to push the boundaries of fine art.
Δείτε αυτή τη δημοσίευση στο Instagram.
One of the most important minds within Memphis Milano was Peter Shire, born in 1947 in Los Angeles. Big Sur is one of Shire's most famous works and was designed by him in 1986 for Memphis Milano. Its wood with various types of lacquer, which allows different elements to stand out, along with the piece's asymmetrical silhouette gives Big Sur a bold character. Shire created art you can sit on, and not just anywhere – in the Dolder Grand too! The upholstered piece of furniture is one of over 100 famous pieces of artwork from over 90 artists that belong to the hotel's art collection.
From War Zones to Art Installations: Jani Leinonen's Message through Seeds
In 2022, the Dolder Grand commissioned world-renowned artist Jani Leinonen from Finland to design a giant Easter egg that would take center stage in the hotel's elegant foyer or "Steinhalle." The egg was created out of 12,000 carnations and took 4 hard-working florists 2 full days to construct. Standing 2.5 meters high, this impressive egg was a unique work of art that delighted visitors for a week.
In front of the giant Easter Egg was an installation entitled "Seeds in Their Pocket" by Jani Leinonen. The installation displayed dried flowers that the artist found in war zones, each with a tag of the name of the country in which he found it. When Russia invaded Ukraine, Jani read a newspaper article about a Ukrainian woman giving a Russian soldier sunflower seeds to put in his pocket so that flowers would grow at the place where he dies. Jani said "For me, this is a really strong image of war. I discovered that flowers grow on many of the battlefields in these war-torn countries, and it's mostly the national flowers of the countries."
See all the floral Easter Eggs of The Dolder Grand from the past years:
Δείτε αυτή τη δημοσίευση στο Instagram.
https://www.instagram.com/travelmyday/