It's beginning to feel a lot like Christmas when you start to see amazing Yule Logs and Christmas desserts created by the most talented pastry chefs in the best hotels worldwide! This is the list for 2022 Festive Season!
Creating a really inspiring Yule Log is a favourite Christmas ritual at the most luxurious hotels of the world. Hotel lovers and gastronomy fans enjoy equally this unofficial competition among the most talented pastry-chefs for the best festive creations!
See below the list of the best hotel Yule Logs and Christmas Desserts for 2022:
Le Bristol Paris  – North Pole bûche de Noël
Deeply rooted devotion to Christmas cheer is sweeping the pastry kitchen at Le Bristol Paris this festive season. For Pastry Chef Pascal Hainigue, who grew up in Alsace where the Christmas season is elevated to a culture all its own, the end-of-year period inspires a strong spirit of enchantment and a particular affection for the bûche de Noël — a Christmas ritual at Le Bristol Paris.
For his 2022 creation, Pascal Hainigue has eschewed the usual dominance of dark or milk chocolate for a dessert elaborated in pure white. Sculpted with the help of moulds handmade by the chef himself for the occasion, the yule log cake depicts seven individually shaped icebergs and a polar bear gingerly traversing them.
Like an Arctic scene frozen in time, the sculptural cake is as light as it is original. Each large iceberg segment is developed in 3 delicate dacquoise layers featuring hazelnut and chestnut meringue, a sweet chestnut cream filling and calamansi jelly for a delicious hint of tangy citrus. The miniature icebergs are crafted from a smooth base of hazelnut praline.
This exquisitely imaginative, North Pole inspired bûche de Noël by chef Pascal Hainigue serves 6–8 people and will be available for purchase at L'Épicerie du Bristol Paris this Christmas from December, 20th until December, 26th.
Hôtel Plaza Athénée – Le Chalet du Plaza
Based on creamy dark chocolate, Hôtel Plaza Athénée's  2022 yule log is decorated with spiced caramel, orange gel and delicately-placed slices of candied orange. Its festive scents and spices intermingle to create a dessert that's at once sophisticated and unabashedly Christmassy.
Order from December 5 for collection at La Galerie, December 22 – 26.
Cour des Vosges – The Venice – inspired Yule Log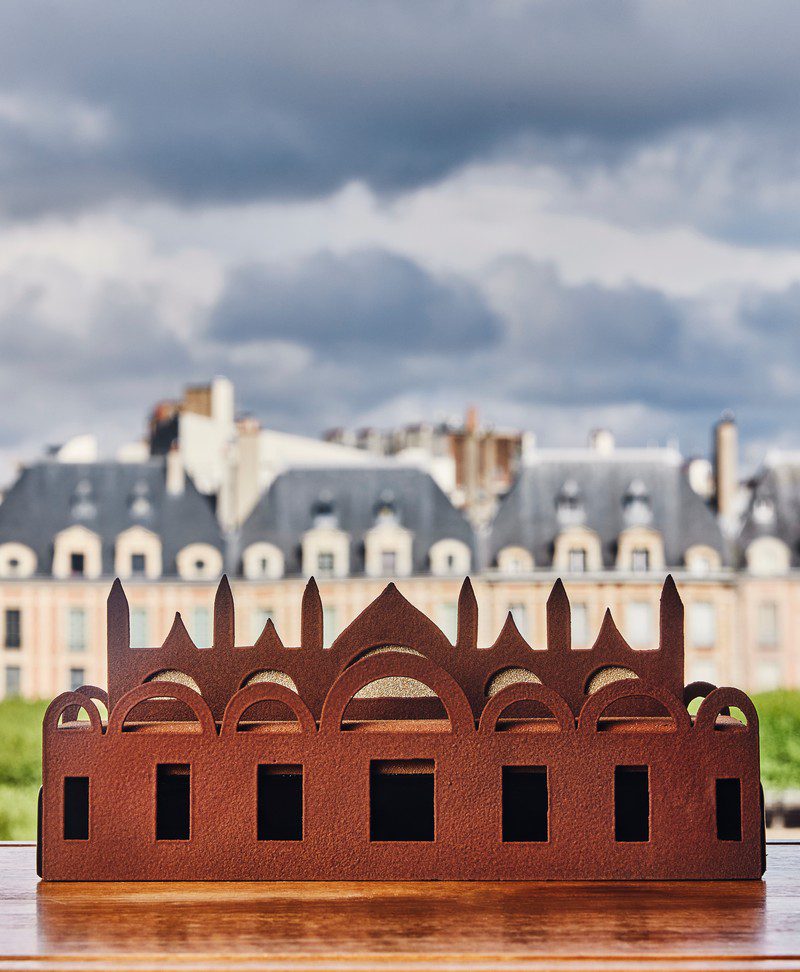 Creative Director and winner of the Meilleur Ouvrier de France award  Yann Brys draws inspiration from the Doge's Palace and the upcoming opening of the Nolinski Venezia which belongs to the same group. This coffee yule log is also inspired by tiramisu and is based on Italian coffee crunch with finger cake soaked in Italian coffee/amaretto, cold brewed white coffee cremeux, vanilla/amaretto mascarpone mousse and coffee jelly.
Four Seasons Paris George V – The art of quilling
Pastry Chef Michael Bartocetti of Four Seasons Hotel George V, Paris has unveiled this year's Christmas Yule log, an exquisite creation designed to be shared with family and loved ones.
The chef's delectable creation echoes the shape of a traditional Christmas tree, with curves and sinuous, graphic lines. Its gentle spires are a nod to the art of quilling, one of the chef's much-loved childhood hobbies that is popular during the festive season in the region of Lorraine. The log's fine layers recall the pleats and folds of paper that children create to make airy flakes to hang on trees. With an airy composition, this gourmet creation features fragrances and textures that complement one another perfectly to tantalise the senses.
Adorned with a dulce de leche chocolate glaze and thin strips of Peruvian 40% milk chocolate, this shimmering dessert has a light and creamy pine-infused mousse that is full bodied yet delicate, with subtle aromatic hints of lemongrass that are fresh on the palate. A Damien Blascot citrus fruit confit bursting with natural essences and featuring balanced acidity adds zest and freshness to each bite, with a fine chestnut honey jam with Sicilian olive oil further enhancing flavours. A soft and smooth olive oil and Provençal almond biscuit adds elegant and comforting fruity notes that are further enhanced by a crunchy almond and lime shortbread. The chef's sinful creation is perfect to share with friends and loved ones over the festive season.
The George V Christmas Yule Log can be purchased daily between Friday, December 16, 2022 and Sunday, January 8, 2023 from the Christmas Pop-Up of Four Seasons Hotel George V, Paris.
Hotel Lutetia Paris – The Art Deco Yule Log
An iconic landmark hotel in Paris' Saint-Germain-des-Prés, the Lutetia is the city's only luxury Palace hotel on the Left Bank. As a tribute to Lutetia's legacy, Chef Nicolas Guercio presents this year a Yule log reflecting all the elegance of Art Deco style. A true artwork made of lines and angles, decorated with golden chocolate plates, it will be a sensation on holiday tables. For his creation, the Chef wanted traditional chocolate and praline flavours, combined with a surprising truffle touch. This sophisticated dessert is made of a creamy Komuntu 80% dark chocolate mousse, a sweet cocoa paste for a crunchy note, a hazelnut dacquoise with crunchy sea salt, as well as a tasty Valrhona milk chocolate hazelnut cream and a truffle-flavoured flowing praline made with Périgord black truffles.
Price: 145€
10 people – Limited edition and upon reservation at +33 1 49 54 46 00 until 22nd of December 2022. Pick-up at the Lutetia hotel.
Four Seasons Hotel des Bergues Geneva – The White Christmas Yule Log
Pastry Chef Jean-Marie Roger has created a wonderful Christmas Yule log for guests to enjoy in the comfort of their home. This year's festive creation has a crunchy pecan nut praline, with notes of pear and subtle tones of caramel that will delight the taste buds of children and adults alike.
Serving eight people, the Yule log is available for takeaway by prior reservation.
Cheval Blanc – The Rocking Horse
Δείτε αυτή τη δημοσίευση στο Instagram.
This festive season, Maxime Frédéric, Pastry Chef of Cheval Blanc Paris, immerses guests in the magical memories of yesteryear through his edible creation, a delicate Christmas log rocking horse inspired by a gourmet fairytale. Maxime Frédéric's interpretation of this much-loved toy brings forth daydreams and a burst of imagination through its intense chocolate and hazelnut flavours and it is composed of two parts:• The rocker and body of the horse is assembled as a bold chocolate shell to replicate the movement of a wooden rocking horse while the amber hue of the chocolate creation perfectly reflects the wooden design of the toy. These details are showcased through juxtaposed layers of chocolate, each in varied percentages of cacao. The rocker, by contrast, is a gourmet tablet topped with crispy Gianduja.