One imagines this is how it feels to be at an all-weekend party in the staffed country seat of a particularly fabulous pal – luxurious, decadent and just wickedly good fun. From the bewitching rooftop pool down to the Cowshed spa, every whim is catered for.
Sitting on the graceful Plaça del Duc de Medinaceli, with the boats of the Port Vell twinkling off to the side, the hotel is a two-minute walk to the bottom of La Rambla (and the Drassanes metro station), and a 10-minute walk to the cathedral.
Its English country house style has been magicked from nothing, yet feels as classy and worn-in as a well-loved pair of brogues. The pale olive-coloured panelling will have you checking for secret passageways, and the rotary porcelain light switches have something of Downton about them, as do the thickly upholstered curtains and solid antique chests.
On the rooftop terrace the air is redolent with the scent of herbs and Mediterranean shrubs, and a shallow pool is flanked all along one side by one huge shared daybed (this is, after all, a social club), shaded by a candy-striped tasselled awning. The view from here, over the Port Vell and out to sea, is quite spectacular.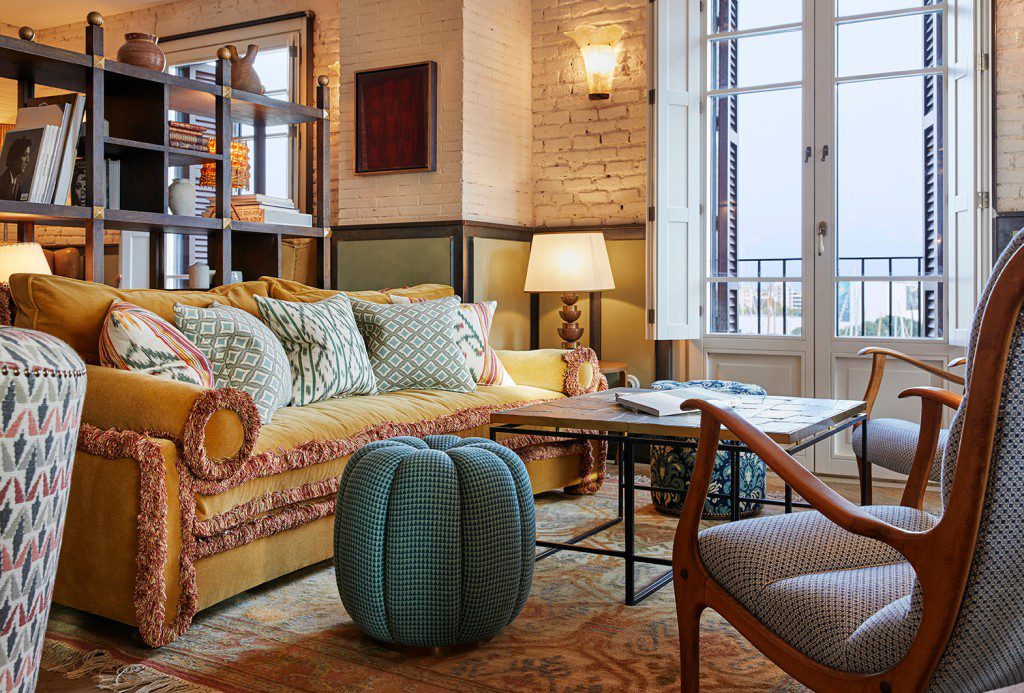 The young, informal but endlessly attentive staff are a draw in themselves, with an enthusiasm that's infectious and never cloying.
The facilities are numerous and plush. The farmhouse-style Cowshed spa in the basement has an elegant tiled space with indoor pool, steam room and four wood-panelled treatment rooms, there is a sunny and superbly equipped gym, and the member's floor is a hedonist's Shangri-La of sofas, architectural tomes and guilty pleasures: bowls of sweets; a free-to-use photo booth; some excellent celeb-spotting. The rooftop pool is heated and open year-round and a 36-seater cinema is set to open at the end of 2016. Talks, workshops and other events are offered, though they fill quickly.
The rooms are not huge but make no secret of it. 'Tiny' rooms, well, are. 'Small' also comes as the slighter bigger Small Square (overlooking the Plaça Duc de Medinaceli) and Small Corner, with windows on two sides. 'Medium' has similar distinctions plus a suite version, the 'Medium Corner', with a separate sitting room and free-standing roll-top bath. All other rooms have large walk-in rainshowers, and an embarrassment of Cowshed toiletries along with mouthwash, shaving foam, hair straighteners and many other tiny luxuries.
All rooms have the means to make coffee and tea (and that includes very pretty teapots), and a pot of cookies as well an extraordinarily well stocked minibar. Even the Tiny rooms squeeze in comfortable chairs, a table, and rather lovely trappings – vintage radios, proper brollies and super fluffy elephant-grey dressing gowns.
Cecconi's, the grand yet immensely comfortable restaurant on the ground floor, turns out superb Italian dishes for surprisingly reasonable prices, while the House Kitchen on the members' floor focuses on sprightly takes on local dishes, alongside hotel staples such as steak-frites and cheeseburgers. Greek restaurant Mandolin will open in summer 2017.
Also due to open in 2017 is the hidden Green Room bar, which will adjoin the cinema. Meanwhile the members' bar, open to guests, is open until late, as is the rooftop. Breakfast is served in the House Kitchen or downstairs at Cecconi's – a superior continental is available or go à la carte for eggs benedict, pancakes and so on.
Value for money8 / 10
Double (Tiny) rooms from €260 (£218) in low season; and from €300 (£251) in high. Breakfast €15 (£12) for continental. Free Wi-Fi.
Access for guests with disabilities?
Three adapted rooms.
Family-friendly?
Children stay free until the age of 13, after which €50 (£42) is charged for an extra bed. Cots are provided for babies, but will only fit in larger rooms. A kids' club is due to open at the end of 2016.
Plaça del Duc de Medinaceli, 4, 08002 Barcelona, Spain.
00 34 932 20 46 00
sohohousebarcelona.com