Yeeeeeeeees! Tim aka Elephante is back with a new single and it's fire! The track is called "Come Back For You" feat. Matluck and it marks a new chapter for the young LA based producer, who's come along way after his debut album release. After pressing play, you're met with some awesome acoustic guitar that drives its way through the track like a boss. The drop presents itself with a combo of phat bass, trappy beats and some serious brass chunks to give "Come Back For You" a nice clubby attitude.
Cross Your Mind (Jenaux Remix)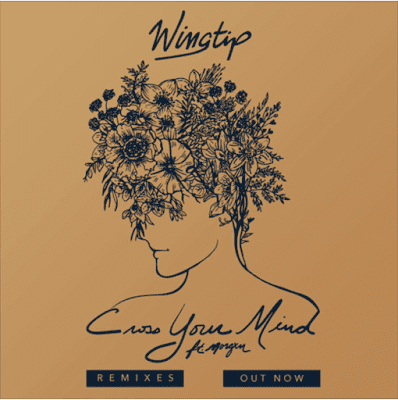 Jenaux recently released his take on Wingtip's "Cross Your Mind". Going with a chillout vibe with funky elements, the NYC based producer goes in a different, but very refreshing downtempo direction with this track. Particularly the chorus/drop has a very sweet sound, playing with the tracks brass parts to create a cool effect. The smoothness factor on this one breaks the scale, but that's exactly what I need mid-week. Hope you enjoy this one just as much as I do!
Silence (Lost Kings Remix)
Not so lost anymore, Lost Kings reappear with a remix for Marshmello's hit single "Silence". With a perfect balance of energy and emotions, the duo continue where they left off. Their unique sound design perfectly blends with the recognisable parts of the original mix, creating a fresh vibes to a track you thought you knew. Having heard a couple of remixes/bootlegs of "Silence" over the past couple of months, I can confidently say that this is one of the best ones out there. Give it a spin below and enjoy!
Disco Fries – Side By Side
After having remixed Avicii's hit "Without You", NYC based Disco Fries are back with a brand new original called "Side by Side". It's a track that shines thanks to an epic blend of both electronic and acoustic sounds, working together with bass player Brady Watt and Niv Toar on trumpet. In line with their previous single release "Moving On", this track brings a soulfull, pop infused vibe to the table that bursts of feel good rhythms, marking a refreshing detour from club music. "Side by Side" not only has a cracking instrumental, but a vocal performance to match, with lyrics that will make you want to sing along in an instant!
Orchestral Manoeuvres in the Dark – What Have We Done
Now that time, it came calling
An angel has fallen
And nothing can be how it's been
And when love seemed so heartless
When light turned to darkness
Now only her star can be seen
What have we done?
You could talk without speaking
Cry without weeping
Your secrets will never be told
Leave your bonds left unbroken
Words left unspoken
And dreams that can never unfold
What have we done?
So there's no one to cry for
To lay down and die for
Now only the scars can be seen
What have we done?
Asaf Avidan – Vertigo
"Vertigo"" – exclusive track Only available in France on Fnac limited editions: – Digipack "The Study on Falling" : http://bit.ly/AsafAvidanDigipackBonus – 7 inch "Vertigo / Rope And Chain" : http://bit.ly/AsafAvidan45T
Cristian Vinci Feat. Stones & Bones – All I Need
All I Need (Original Mix)
Voice by Stones & Bones
Piano and Bass by Cristian Vinci
Guitar by Stones
Drum and percussion by Cristian Vinci
Synth and Stabs by Cristian Vinci, Stones & Bones
Mixing By Cristian Vinci
Mastering By Cristian Vinci at Lab studio (Italy)
DJ Satelite Feat. Fredy Massamba – Abantu (Sifa Dub Mix)
Available From Stores
Beatport – 6th Dec 2017
Everywhere – 31st Jan 2018
DJ Satelite Ft. Fredy Massamba 'Abantu' Including Remixes By Djeff Afrozila, Samurai Yasusa, FNX, Sifa, Kiddy Deep, Two Strong, DJMreja & Neuvikal Soule Dorivaldo Mix and DJ Nova SA
Written by Fredy Massamba
Produced by DJ Satelite
Vocals by Fredy Massamba
Mastered by Seres Produções
Cover by: Uólofe
Label Manager: Danykas DJ
Executive Producers: DJ Satelite
Info/Licensing: info@seresproducoes.com
promo@seresproducoes.com
www.seresproducoes.com
Available From Stores
Beatport, LLC – 6th Dec 2017
Everywhere – 31st Jan 2018
Erica by Zalon
Sweet Soul Music.
This is what they had to say about their single:
Zalon, the main backing artist and collaborator with Amy Winehouse just has released his Album and first single 'Erica' – to a sold out gig in London. Erica is about a woman who is untrustworthy whose giving Zalon the run around but she should just be true and honest with herself.
Kayls – "Summer"
From the land of eternal sunshine – otherwise known as Los Angeles – comes another young electro-pop talent by the name of KAYLS. After being dragged through the ringer in the ever-so-unforgiving music industry, KAYLS is enjoying a fresh start with her new single "Summer," which focuses on holding onto a moment for as long as humanly possible. The track – produced by Rostrum Records trio BRÅVES – features high-end sounds and intoxicating vocals. Fans of Tove Lo & Lana Del Rey will surely get their fix with this one.
"The emotion of 'Summer' is a little bit bitter sweet," she explains. "It's that song about wanting to fight off the inevitable and hold onto a moment in time for as long as possible, all the while knowing that there's not much you can do to change the fate of the situation."
Keep your eye on KAYLS this winter, who will release her debut EP Modern Savages in January.
HENRY GREEN – STAY HERE
This track is not something we usually post … but I could not resist. It's just so beautiful … and I feel like everyone will get the feels while listening so, I couldn't not share. UK up-and-comer Henry Green has produced an emotional new single called "Stay Here" that I've totally fallen in love with. Dreamy melodies floating under sweet airy vocals, it's impossible to ignore it's charm. Grab your headphones and close your eyes … I promise you wont regret it!
LOOTE – OUT OF MY HEAD (KAIDRO REMIX)
Ah, don't you love when a track you've been jamming gets a recreation that gives it a whole new vibe? Well I know I do. That's why today we are premiering Kaidro's remix of Loote's 'Out Of My Head'. For those of you unfamiliar with the talented producer, Kaidro has been on a roll lately with a string of successful remixes which include an official remix for Jocelyn Alice's 'Bound To You', which was featured on Spotify's New Music Friday. Now, he graces us with yet another fire remix of Loote which dazzles the listener with soft plucks, uplifting vocal chops, and clean percussion that will have you replaying it all morning. If you haven't had the chance to check out Kaidro, now is your time. I have a feeling big things are in the future for this one.
PALASTIC – CITY LIGHTS FT. NEVVE
I am totally in love with this new Palastic track! Being a big fan of this amazing Austrian duo, "City Lights ft. Nevve" is hitting all the right feels for my sleepy Thursday afternoon! This jam is bringing me back to life with bouncy melodies and dreamy vocals – so good! Palastic is one of those artists who seem to create the perfect track that keeps you coming back for more.