Early September, offering mild temperatures, not too hot or cold, is perhaps the best time of the year for a road trip to the southern side of the Fokida region, in central Greece, an area combining natural beauty, a superb coastline, a fascinating ancient past, as well as more recent cultural interest. Fokida's southern section features three highlights, Delphi, Itea and Galaxidi.
We thought everything had been planned to perfection until a serious issue with our car almost forced us to cancel the trip. There was not enough time for the fault to be repaired, but, luckily, a friend came up with a great suggestion that solved the problem.
The Avis car rental company's wide range of vehicle options serves as an ideal solution for travellers wanting a reliable car for both short and extended periods, offered at exceptional rental rates. In addition, during a time of increased fuel costs, we were able to pick a fuel-efficient car model at Avis, which proved to be an ideal solution for our trip to southern Fokida. The entire procedure was carried out online, very simply.
Shortly afterwards, we were on the Athens-Lamia highway, our road trip's first main stop being Delphi, which seemed like an impossible prospect just two days earlier, when our car's engine fault became apparent. Getting there ended up being easy thanks to our Avis car rental solution.
A little before reaching Delphi, we made a brief stop for coffee at Arahova. In early September it is still too soon for the glory days of winter offered at this popular ski resort, the main town of Mount Parnassus. But the lack of people this time of year enabled us to enjoy the mountain area's serenity, a special feeling. We were also able to marvel at the vast mountain without snow before heading on to immerse ourselves in ancient history, art and culture.
Mythical place
Our first stop, proper, was at one of the country's best-known spots, internationally, the archaeological site at the Oracle of Delphi, a sanctuary dedicated to the god Apollo, where many people of the ancient world sought predictions on the future. Visiting Delphi is an experience balanced between reality and myth. We appreciated seeing the ancient ruins. A little further below, at the small valley of the Pleistos River, it is easy to see why this location was considered ideal for the divine oracle, and why its fame spread to faraway places, as indicated by excavations discovering dedications from Syria and Armenia.
Following our look around the archaeological site we visited the Delphi museum. The Charioteer of Delphi statue, the most renowned of the ancient tributes discovered at the oracle, is the museum's standout piece. The manner in which artefacts are presented at this museum, detailing the ancient Greek religion, art, as well as the oracle's periods of boom and decline, is part of the overall beauty.
From Delphi, we slowly headed towards our road trip's main destination, Galaxidi. In our Avis rent-a-car, we drove comfortably through the gorgeous Amfissa olive tree forest, an expanse with approximately 1.2 million olive trees, many of these centuries-old. It is considered Greece's most ancient olive grove. Unfortunately, a forest fire impacted a small section of the olive grove, but its majority has continued to prosper, bearing delicious Amfissa olives, cultivated the traditional way. Pesticide usage is kept to a bare minimum here as the region's climate is not favourable for olive cultivation's main pest threat, the olive fruit fly.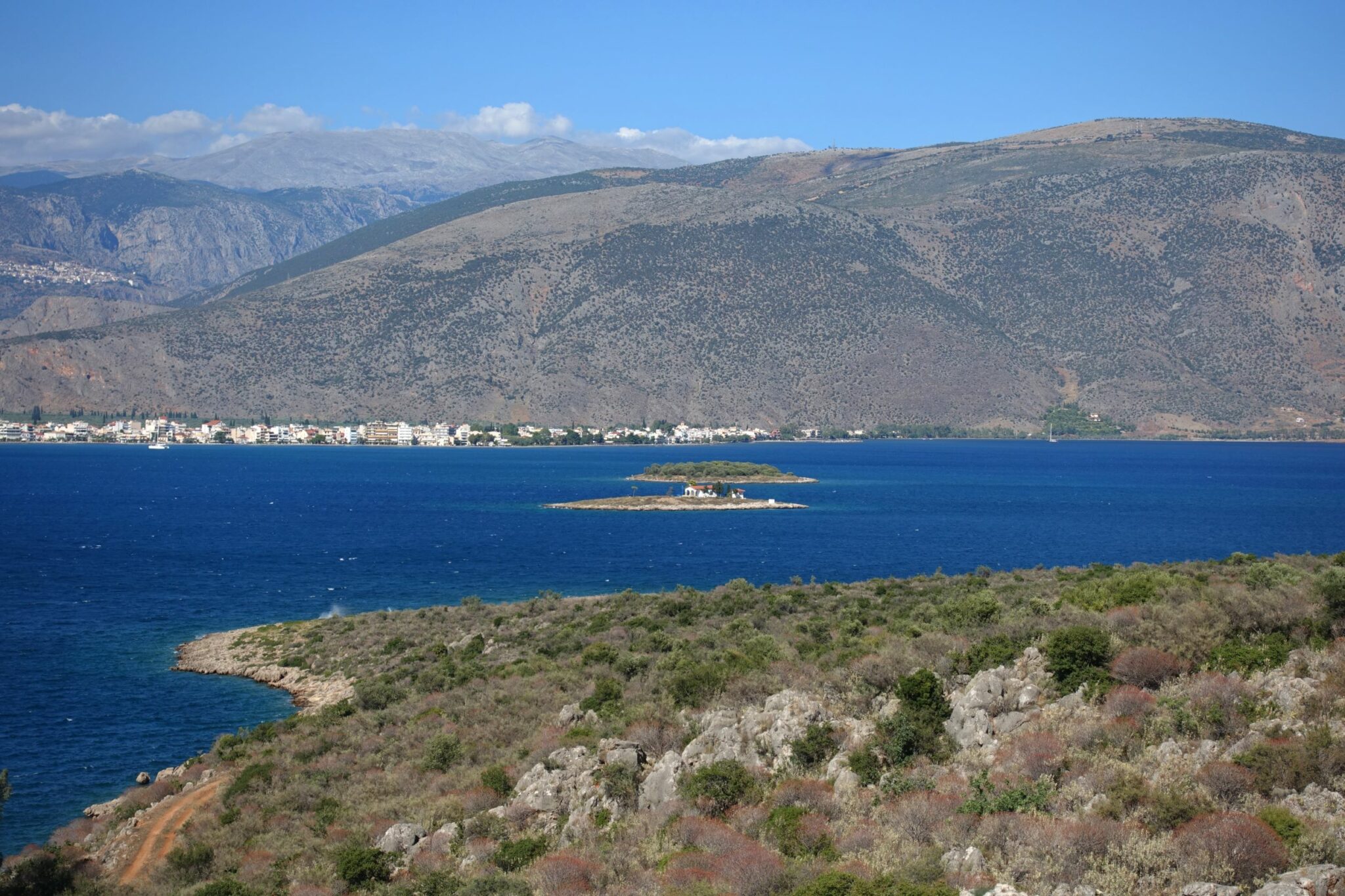 Following Delphi, we made a first seaside stop at Itea, a small town on the north coast of the Gulf of Itea, a northward projection of the Gulf of Corinth. This town offers exceptional fish-meal choices, which we took full advantage of. From there, we continued along the superb seaside road, running for 2 km to Galaxidi. This specific route has been included in this year's Acropolis Rally as a special stage. So we can claim to have driven – in our Avis rent-a-car – through World Rally Championship conditions.
We arrived in Galaxidi at night, somewhat tired but filled with images. We settled into our rooms and slept early to get plenty of rest ahead of the next day's exploration of this beautiful town, backed by an extensive maritime history.
Seafaring Galaxidi
Galaxidi had remained disconnected from the country's highway network until 1963, when a road linking Itea with Nafpaktos was completed. Until this project's completion, Galaxidi could only be reached via a far smaller seaside road. The resulting isolation, combined with Galaxidi's heritage listing in 1978, was instrumental in preserving the small town's traditional architecture. These two favourable factors have resulted in Galaxidi being a classy yet down-to-earth place.
For accommodation, we stayed at one of the old stately homes that have been converted into fine, well-kept guest houses, and, as a result, were also able to marvel at the fine architecture's interior features. These Galaxidi buildings, featuring imposing wooden doors and red and blue window shutters, cast minds back to the time of the city's economic prosperity, which was based on the craftsmanship and talent of locals.
Galaxidi was one of the most important maritime centres of the Mediterranean in the 18th and 19th centuries. The town was home to numerous shipyards where wooden sailing ships were built; many local sea captains were employed at major shipping companies; and numerous Galaxidi shipping agents were stationed at major European ports, sending earnings back to their homeland. The emergence and eventual dominance of steamboats gradually led to the decline of Galaxidi as a maritime centre. However, reminders of the small town's naval period remain in the local architecture and at monuments, including the Monument of the Sailor's Wife, a tribute to all women anxiously waiting for their sailor husbands to return from long journeys. For an even better impression of this glorious past, we visited the Maritime Museum of Galaxidi, housed at a lovely 19th century building.
It is not the only prominent building hosting a museum at Galaxidi. The Aggeli mansion, a grand building that is the town's highlight structure, hosts the Folk Art Museum, its most interesting exhibits being the local traditional women's costumes. The museum building, itself, is an attraction. Other beautiful Galaxidi buildings include the Tsalagyra building, nowadays hosting the town hall, the Bourzeiko and Dedousis mansions, the Parthenagogeio, which was built in 1880 and served as a girls' school for approximately 50 years, as well as the old primary school building.
Galaxidi's best-known landmark is its church dedicated to Agios Nikolaos (Saint Nicholas), the patron saint of sailors, which has stood since 1902 at a location previously hosting a Byzantine-era church. We were fascinated by the church's ornate wood-carved iconostasis, a piece of great artistic value, and also saw numerous old votive offerings left by local sailors and their families, all praying for safe journeys and returns.
Superb beaches, lovely routesThe biggest advantage ensured by our Avis car rental was that we could organise our itinerary exactly as we wished, without having to depend on bus schedules, for short excursions wedged in as extras to the main travel plan. One of these little additions was a trip to Agios Vassilios, a lovely beach just beyond Galaxidi. This small beach, covered with fine pebbles, features transparent waters and superb scenery, especially before sunset. Another little trip we managed to squeeze into our schedule, and highly recommend, was the village Kirra, very close to Itea. It offers fish tavernas, a serviced beach, water sports, as well as the ruins of a medieval tower. Finally, visiting the Metamorfosi Tou Sotirous monastery, 5 km from Galaxidi, is essential. The monastery, situated 300 metres above sea level, offers a sensational panoramic view of the entire region.
During our return to the city, we stopped for coffee at the Krya springs in Livadia, having time to spare thanks to the comfortable and efficient travelling offered by our Avis car rental. It was a lovely final touch to what was a very fulfilling long weekend of travel in the Fokida region. This area is highly recommended for travellers not particularly interested in nightlife, but, instead, prefer seeing places that offer cultural interest, fine gastronomy, if desired, crystal-clear waters, and above all, amazing driving routes with majestic nature as a backdrop.