With more than six hundred islands spread out across the Aegean Sea, Greece is an island hopping wanderlust.
From the furthest north to the bottom south and from the western to the eastern most isolated little island, there is always the easiest, fastest, the most convenient or most economical way to arrive at your destination.
Instead of wasting days or weeks trying to find all the routes online yourself, accompanied by a feeling of great insecurity about how accurate your research actually is, you can now have all the options available for the islands you want to visit, plan your own itinerary and select the best possible simple or multiple routes to arrive at your dreamy island.
Thanks to the brand new platform, Let's Ferry, every traveller saves time and effort and can be sure that all possible options are just a click away. Find the ferry itineraries that perfectly fit your schedule and have the Greek seas right at your fingertips!
Like a fairy that can take you to your dream destination with just one magical click, Let's Ferry is the wand that helps you find your way to the Greek islands!
Find all the shipping companies, the routes departing from every port, all the connections of the routes to every island, the continental ports, the most popular destinations, ports and ferry companies, all the alternative routesplus the special offers that are available anytime! Moreover, you can receive exclusive offers in your inbox so you will be the first to know.
Let's Ferry is a ferry tickets reservation website designed according to your needs. By using modern technology and an extended network of business partners, it was developed to simplify the search and reservation of ferry tickets online. So now every traveller has high quality trusted services and easy and fast access to unique data on everything they need to know.
Owned and managed by the leading experts in the travel and shipping sector in Greece with more than thirty years' experience in designing and implementing the most complex business projects with high-quality services, you can be sure you are dealing with the top shipping providers.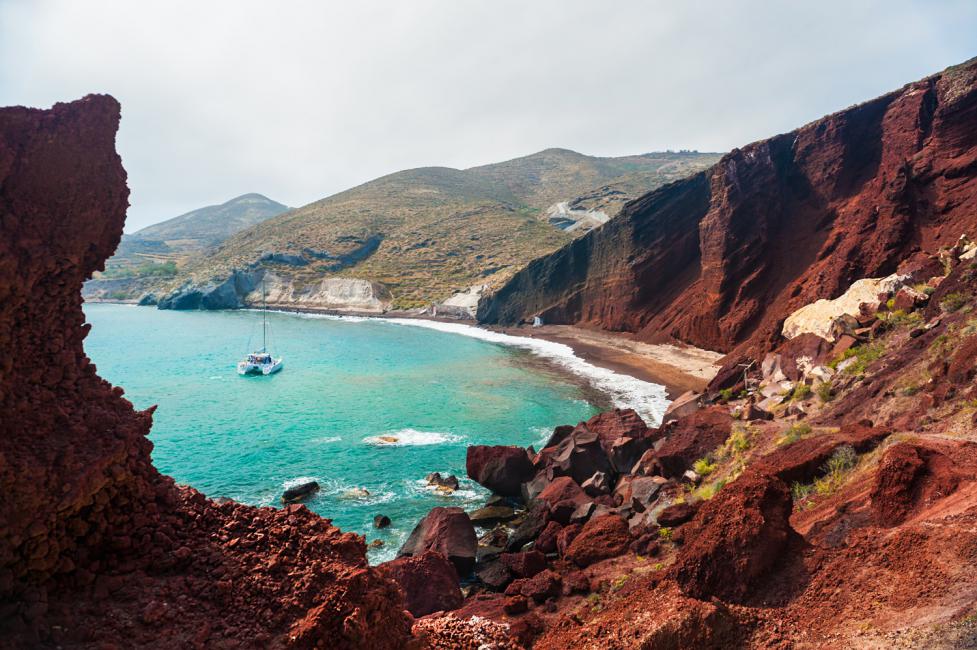 Your destination is just 3 steps away!
Select the island of your departure and the island you are going to. While you write their names down you can see them on the map so you see exactly how far they are from each other, which other islands the route include and which other routes are available. It's practical and it's fun!
For example, if you choose Santorini you can immediately see on the map where you can travel to and from Santorini in just a glimpse!
Or let's say you want to visit  Mykonos after flying to Athens and you want to find the best available route and port to depart from.   By searching the options on the Let's Ferry website, you will see that you can either travel from Rafina port, which is only a twenty-minute drive from the Athens airport or you can go to Piraeus port and take the ferry from there. Check the routes from Piraeus and Rafina and find the most convenient way to travel to your island.
You can also find the routes and connections available to the nearby islands so you won't miss the opportunity to explore some more of the Greek islands.  So once you are in Mykonos, why lose the opportunity to visit Santorini, Paros, Ios, Naxos or even the famous blue zone island of Ikaria?
Naxos, for example, is just half an hour away from Mykonos and offers connection routes to Dodecanese islands or other Cycladic islands. Naxos to Paros is just 25min with a high-speed ferry or 45 min with the regular ferry.Naxos to Mykonos is just 40min with a high-speed ferry or 1 hour and 25 min with the regular one. Once you are in Santorini why not visit Crete when it is just 1 hour and 30 minutes away?
You can also find useful information about popular destinations; one of a kind customer service support to answer every question by email or phone plus you may search for your perfect route in five different languages including French, German and Italian.
You just pick the destination you wish for and all the routes will be made readily available. You can also book and buy your ticket through PayPal or by credit card of your choice.
If you are searching inspiration for which Greek island to travel to next, follow #letsferry on social media and check the route that suits you best!
Travel tip shared by Villy Manolia for Travel Dudes